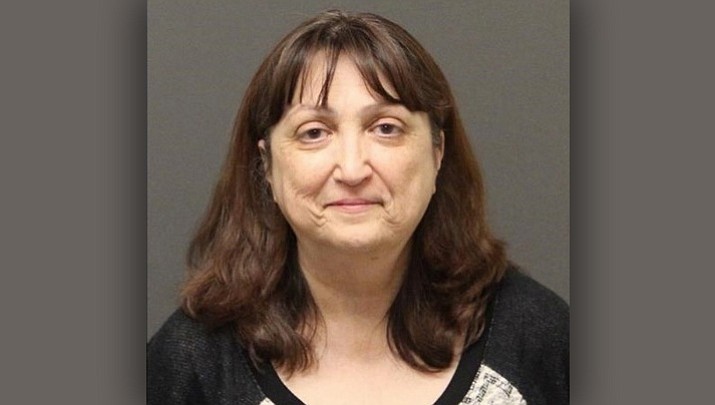 Originally Published: October 4, 2017 4:46 p.m.
KINGMAN – Diane Maxine Richards, the former city finance worker who embezzled more than $1.1 million, was sentenced Wednesday to the maximum 9.25 years in state prison on three counts of felony theft, plus seven years of supervised probation upon her discharge.
She was also ordered to pay restitution, starting with the $157,000 check she signed over from the Arizona State Retirement System.
Superior Court Judge Billy Sipe brought the gavel down hard on Richards, saying aggravating circumstances far outweighed the mitigating circumstances laid out by defense attorney Adam Zickerman.
Sipe said he'd been thinking about this case ever since Richards agreed to a plea offer in August, understanding that plea bargaining is what goes on in the criminal justice system. Had the case gone to a jury trial, Richards could be looking at life in prison, the judge said.
"This is a person who kept stealing and stealing and stealing over eight years and cost the city over $1 million," Sipe said.
He's seen cases of one or two thefts, even three or four, but at some point, Richards should have stopped to think about what she was doing and seek help, Sipe said.
The theft was a substantial, an amount not often seen in Mohave County, and clearly Richards' entire motivation was to use the money for her own benefit, specifically gambling, Sipe noted.
In presenting mitigating circumstances, Zickerman pointed out that Richards' husband had died and she found comfort in gambling.
He also asked the judge to consider her remorse and acceptance of responsibility, along with her perfectly clean prior criminal history.
Sipe said he didn't find Richards to be at all remorseful from reading her statements in the plea memorandum.
"She did not even offer an apology for what she did. She continues to blame the city for her actions," Sipe responded.
Among other things, Richards said there was no oversight by the city that could have "nipped this in the bud." What bothered Sipe the most was that Richards listed 24 high-ranking city officials, and basically accused them of misusing public funds.
"What about all these other people? If I'm going down, I'm taking others down with me," Sipe said. "I'd be very upset if I was one of those 24 people accused of misuse."
Richard turns 61 on Oct. 10, so Zickerman used her age as a mitigating factor, but Sipe countered that she started embezzling 10 years ago. The judge also dismissed her medical conditions, noting they occurred after
Richards pleaded guilty in August to four counts of felony theft.
Investigators with the Attorney General's Office found that Richards misused a city credit card to pay for personal expenses from July 2007 to January 2015. Those expenses included payments for her personal cell phone, utility bills and car insurance. She also used the credit card to pay off cash advances at various casinos.
Joseph Waters, representing the state, said Richards was a trusted public employee and steward of the city's money. Instead, she chose to gamble with those funds. He said the prison terms are appropriate as "general deterrence" for government employees stealing money from taxpayers.
Richards mouthed "I love you" to her family and supporters as she was remanded into custody of the state.