Originally Published: October 4, 2017 6 a.m.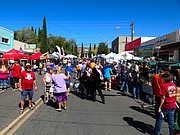 Attendance at Andy Devine Days was estimated at 3,000 to 5,000 a day, and one motel operator reported a sellout during the weekend that celebrates the town's western heritage with a parade, rodeo and festival.
About 40 percent of people surveyed during Andy Devine Days, held Sept. 22-24, said they had attended last year's event and returned this year, said Josh Noble, tourism director for the City of Kingman.
"So that's a good indicator it's a fun event," Noble said. "The concert was a huge success, much better attended than last year."
Several vendors sold out, including the hot dog vendor, and the bakery lady only had three items left on her table. They're getting "more in tune" with what people are looking for, Noble said.
More than 2,000 wristbands were issued for the free fun zone, and people were packed along the rail and jammed into the bleachers for the tractor pull.
There were big crowds at Black Bridge Brewery, Rickety Cricket and Floyd and Co.
"People were all over the place, not just in one spot," Noble added.
Sultan Abbas, general manager of Ramada Inn and Canyon 66 Restaurant and Lounge, said business was hopping that weekend, with rooms sold out on Friday and Saturday.
The Shriners group came up from Phoenix and reserved 20 rooms at the Ramada. They also dined at the restaurant.
"It was a great turnout for us. Also, we had some rooms reserved by individuals who participated in both the rodeo and the parade," Abbas said.
Ramada hit 70 percent occupancy a few days before the big weekend, which enabled the motel to adjust room rates upward, he noted.
Canyon 66 hosted a dinner for about 50 members of the Kingsmen, the group that sponsors the rodeo, and that paid off with late-night business at the bar after the rodeo.
Black Bridge Brewery saw a 45 percent spike in beer sales from the prior Saturday, owner and brewmaster Tim Schritter said. He opened at 9:30 a.m., a little earlier than usual, to accommodate the parade crowd.
"It was pretty steady throughout the day and we were fully staffed," Schritter said. "It brings thousands of thousands of people, so inherently there's going to be more volume of sale. Our front patio was perfect for viewing the parade."
Abbas said he met several people who were originally from Kingman, but now live out of town and came back for the parade and rodeo.
Kingman native Brendan Lenhardt, owner of LVP Drones, came from Chicago to cover the rodeo with his drone, posting shots on Canyon 66 Facebook page.
Noble said 278 survey forms were completed by people from as far away as Alaska and Canada. A lot of them just happened to be passing through Kingman and stayed an extra day, he said.
The Andy Devine Days parade started in 1970, the rodeo was added in 1985 and the festival blossomed from the 2014 International Route 66 Festival.
Participants at the recent Gen-K Town Hall asked for something to do in Kingman other than a car show, and Andy Devine Days had something for everyone, Noble said.
It generated more business for Ramada than the Mohave County Fair the previous week, Abbas said. Overall, September was a good month with an 11 percent increase in business from a year ago, he added.
"Andy Devine Days and the rodeo and the fair are great events for our town as we don't really have a lot of options through the year," the hotel and restaurant manager said. "I wish we can have at least one big monthly event under the umbrella of the city with help of most of the businesses in town."
More like this story