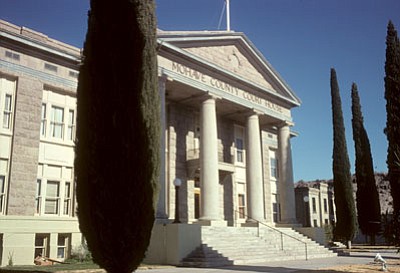 Originally Published: October 6, 2017 5:56 a.m.
KINGMAN – Mohave County is trying to figure out what to do with all of its old courthouse buildings.
The county administration was ordered to develop a five-year plan to deal with excess building space, including what to do with the old courthouse once its new four-story, 66,461-square-foot counterpart is complete sometime in early 2020.
Supervisor Buster Johnson challenged staff Monday to come up with a design to streamline the county's real estate holdings.
"The county owns, leases or rents way too many buildings," Johnson said. "With the building of the new courthouse, which should free up space, I want staff to come up with a plan to reduce wasted space and save money."
County staff says Mohave County doesn't have the income to maintain even the newest buildings. Added to the county's financial infrastructure strain is the prospect of paying off the decade-old jail next year, leaving the county with an annual maintenance cost of $800,000 to its general fund. The maintenance costs have been paid via a quarter-cent excise tax, which is set to sunset in December 2019.
"When staff proposed moving forward on the new courthouse they did not recommend remodeling the old courthouse, so hopefully with this plan they will come up with some solutions," Johnson said. "Will they leave the old courthouse there with all of its maintenance? We need to get a plan in place to spend our money wisely."
Johnson believes a comprehensive building plan will allow a better estimate on renovation costs to the old courthouse, which had pushed that project over budget forcing the county to put it on hold.
"We have to get an honest evaluation on the renovation to the old courthouse," Johnson said. "My opinion all along has been to give that building, which is an icon in Mohave County, to a museum society or something else, and to not keep on maintaining something that is obsolete."