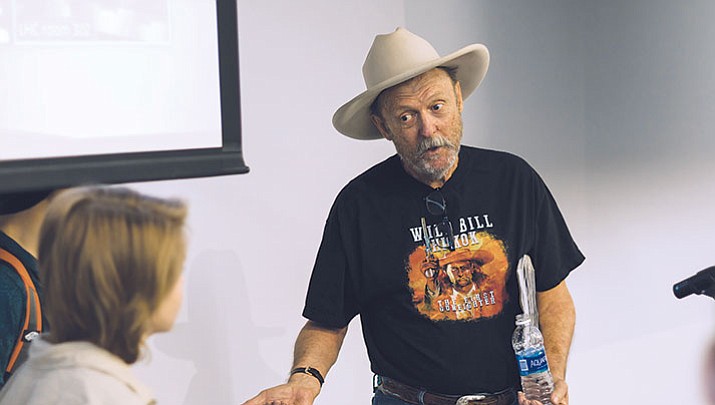 Originally Published: October 10, 2017 5:55 a.m.
KINGMAN – Bob Boze Bell, local artist, author and publisher of True West magazine, spoke to the art club Friday at Mohave Community College and told students to never give up on their dreams.
Bell said he initially lost money with the magazine venture, but it helped teach him humility.
"If I never lost $30,000 a month, I wouldn't be as appreciative," Bell said during his classroom lecture. "If you never experience rejection, when you start making money you're going to be pretty shallow."
Bell was born in Iowa, but grew up in Kingman and is the author of many books, including "The 66 Kid," which was released at the 2014 International Route 66 Festival and describes what it was like growing up along Route 66.
He is host of "Outrageous Arizona," an Emmy-award winning documentary about Arizona's road to statehood. He also published and illustrated books on Wyatt Earp, Billy the Kid, Doc Holliday and classic gunfights.
"Draw and write every day without hope, without despair. If not, you will ruin your artwork," he told art club students, advising them not to worry about their writing or artwork. "Draw six bad drawings a day and don't get discouraged."
He encouraged them to use rejection as fuel to fire their passion and temper their attitude. "Art kids that went to the best art programs sometimes lack a little bit of Kingman humility," he said.
Students attending the event said they were impressed with Bell's passion, and his message will help them.
"It was an inspiring presentation that reminded aspiring Kingman artists they have everything they need to go out and be what they want," said Brooke Garcia, graphic artist and MCC art program graduate. "Starting out in Kingman means they will have stories that others won't."
Bell also talked about getting published and offered some advice for those building up their portfolios. "Less is more when it comes to your portfolio," he said. "The best I ever saw had five good pieces in it and that's all they needed."