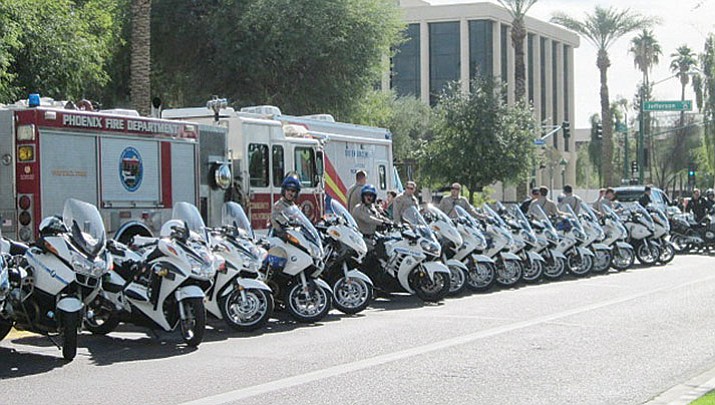 Photo by Miner Staff.
Originally Published: October 10, 2017 6 a.m.
BY THE NUMBERS
26,060 DUIs in Arizona in 2016
43 percent of drivers who died with drug in their system
154 DUIs charged between MCSO and KPD since Jan. 1
18 Drug-related DUIs since Jan. 1
A report released earlier this year said that the number of fatal crashes nationwide in which drug-impairment was a factor surpassed fatal collisions involving alcohol in 2015.
The report, "Drug-impaired Driving," was released by the Governors Highway Safety Association and the Foundation for Advancing Alcohol Responsibility, a nonprofit organization backed by alcohol manufacturers.
Testing of drivers who died in 2015 showed that 43 percent had drugs in their system, the report said, more than the number of motorists who died that tested positive for alcohol.
But only 57 percent of fatally injured drivers in 2015 were tested for drugs. Of those who tested positive, 35 percent were positive for marijuana. In Arizona, for 2016, there were 26,060 Driving While Impaired (DUI) arrests, and 4,817 were for impairment by drugs, rather than alcohol, said Alberto Guitier, director of the Governor's Office for Highway Safety.
That number becomes more significant when compared to the number of DUI-drug arrests in 2010: 1,679, according to Guitier.
Mohave County Sheriff's Office has made approximately 70 DUI arrests since Jan.1, and Kingman Police Department has made 84. MCSO spokesperson Trish Carter said about 9 percent were drug related, and KPD's Deputy Chief Rusty Cooper reported that 14 percent of its arrests were drug related.
"We as an agency have not seen an increase in marijuana DUIs due to medical marijuana," Carter said about MCSO.
KPD has seen more with opioids than pot.
"Most of the drug-related (DUIs) are due to opioids – pain meds," Cooper said. "Several had multiple drugs such as methamphetamine, marijuana and opioids."
How to Determine
Almost everyone is familiar with how police officers establish whether a driver has had too much to drink.
The standard field sobriety test includes coordination exercises, which measure both physical abilities, such as balance, and also the ability to comprehend and follow instructions.
Then there's the breath test, which requires the driver to blow into a device that measures the amount of alcohol in the subject's system.
For even more accurate results, a blood test is done, with the subject's consent or by a court order.
The rule is that the driver's blood alcohol content (or concentration) may not be more than 0.08 percent — anything more means a DUI arrest.
Officers have the right to allege that a driver who has a BAC of less than 0.08 is impaired, however.
With drugs, there's no specific measurement to determine impairment. The decision is made by an officer with Drug-Recognition Expert (DRE) status.
"There are a few hundred here in Arizona," Gutier said, "and that person is called to the scene and does tests (on the driver)."
He said DRE-certified officers spend two-and-a-half weeks in training before being approved.
KPD's Cooper said his department's "officers are trained to identify signs of drug and alcohol impairment."
"There are similarities, but also unique differences," Cooper continued. "We haven't seen a significant increase in marijuana-related DUIs. Prescription medication is the big one for us."
MCSO's Carter said if a suspected DUI driver is administered a breath test and it comes back below the legal limit of 0.08, then MCSO would bring in a Drug Recognition Expert.
"Once the DRE finishes their series of tests, we then obtain a search warrant and draw blood," she said. "Once the blood results come back and shows a presence of any illegal drug, then that subject is arrested.
The standard for how much of a drug may be in the driver's system is markedly different than the one for alcohol. With illicit drugs, any presence counts, but with marijuana the officer needs to prove impairment as well as the metabolite in the body.