Originally Published: October 11, 2017 6 a.m.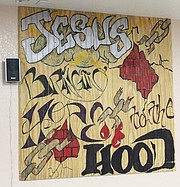 For Pastor Bob Peet, it isn't about religion. It's about giving youth a safe place. That's why he, and the Kingdom Of God Church, have decided to open a youth center on the corner of North Stockton Hill Road and Potter Avenue.
Peet, fondly known as "Pastor Bob," said the KOG Youth Center will be open for middle school through high school-aged children. Peet said the grand opening of the youth center will take place Nov. 3, and the hours will be 6:30 p.m. Thursdays and 6 p.m. Saturdays, which coincides with the current hours for the youth group.
"We just want to have a place for (children) to look forward to go," Peet said.
Bridgette Sweeney, a children's church teacher at KOG, said the youth center will have pool, foosball, air hockey and basketball. Most of which currently exist in the building, except the permanent basketball court, which will require fundraising efforts. Peet said they also intend to have an outdoor volleyball court and horseshoe pit completed before the Nov. 3 opening.
Peet said there will be two homework stations for children to use and through Lee Williams High School, KOG Youth Center will have tutoring available.
"All the basics are in," Peet said. "We need some more seating. We will need to see what the needs are and fill those needs."
Peet said the youth center will be a device free zone. No phones or tablets, though if a student needs to bring their laptop to do homework that would be fine.
"We want to encourage interaction," Peet said.
Mayor Monica Gates said having a youth center that focuses on education and peer interaction is a "tremendous addition" to the Kingman community.
"Pastor Bob shared his vision for the youth center, and I told him that I felt he was filling a huge void in Kingman," Gates said.
Peet said the youth center will have a multifaceted outreach, including an optional 5-10 minute bible study, but nothing is going to be forced on anyone.
"If an atheist kid shows up, they will be as welcome as everybody else," Peet said. "But we are going to give them the opportunity to learn about God."
Peet said helping the community is what churches are supposed to do.
"A lot of kids don't have a parental influence," Peet said. "People think nobody cares about them, but we want to show them God still cares … it's all about love."