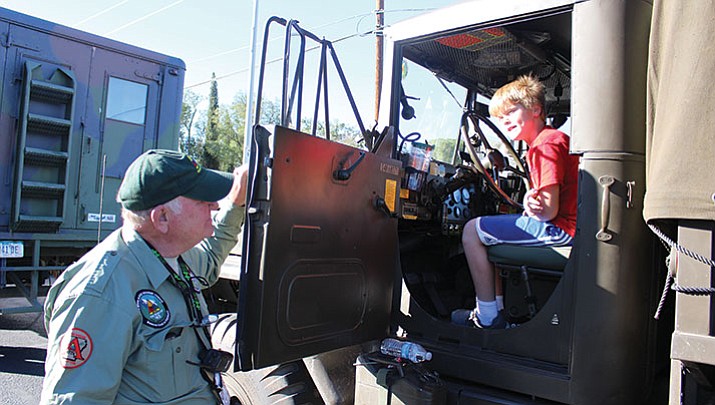 Photo by Hubble Ray Smith.
Originally Published: October 11, 2017 5:55 a.m.
Photo Gallery
Military convoy at Veterans Memorial Park - Oct. 9, 2017
More than 65 trucks, jeeps and other military vehicles stopped Monday at Veterans Memorial Park as part of the Military Vehicle Preservation Association's 2016 Route 66 Convoy from Chicago to Los Angeles. Photos by Hubble Ray Smith.
KINGMAN – Several hundred people withstood high winds Monday afternoon to show up for the Military Vehicle Preservation Association's 2017 Route 66 Convoy that lined Beale Street at Veteran's Memorial Park.
It was one of the largest turnouts for the convoy that started Sept. 16 in Chicago and is headed to Fort MacArthur in San Pedro, California, said Dan McCluskey, the convoy's leader from Simi Valley, California.
"I want to say the welcome we got here in Kingman has been phenomenal, one of the best we've gotten," McCluskey said during a brief ceremony at the park.
It's the MVPA's fourth convoy covering nearly 15,000 miles. They did the Transcontinental Highway in 2009, Alaskan Highway in 2012 and Bankhead Highway in 2015. The next convoy will travel the Lincoln Highway from New York to San Francisco in 2019.
Terry Flanagan, commandant of the Kingman Marine Corps League, gave opening remarks at the ceremony, along with Mayor Monica Gates.
"We know what you guys did and our community really appreciates it," Flanagan said in recognition of military veterans in the crowd. "We appreciate you bringing this rolling memorial to our community."
Kingman resident Paul De Nubilo was recognized for organizing the event, working with Kingman Police Department and Parks and Recreation Department to take over the street and park for a few hours.
There were about 65 military vehicles in the convoy, some going back to World War II.
Gilbert Jeane of Arkansas was letting kids climb into his 1970 M35 military truck that saw action in Bosnia and Afghanistan, and helped with emergency service when Hurricane Katrina hit the Gulf Coast.
He bought the vehicle about 10 years ago for $2,800 and rebuilt it.
"When you're retired, you have to have a hobby and green iron is one of them," Jeane said.
Established in 1976, MVPA is dedicated to providing an international organization for military vehicle enthusiasts, historians, preservationists and collectors interested in the acquisition, restoration, preservation, safe operation and public education of history military transport, according to its website. There are 8,000 members worldwide.