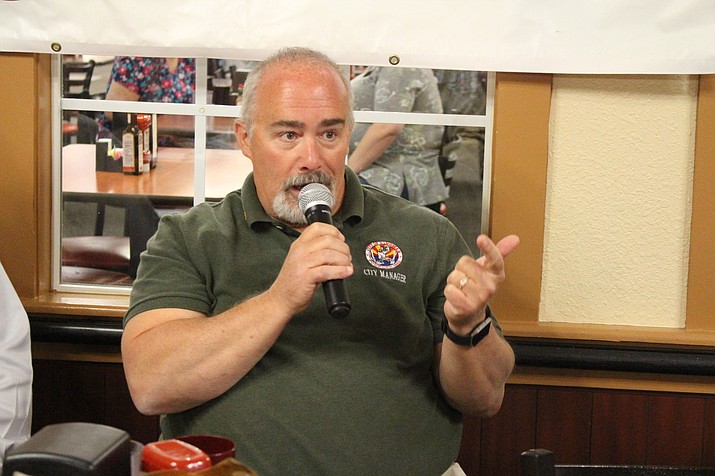 Photo by Hubble Ray Smith.
Originally Published: October 13, 2017 5:59 a.m.
KINGMAN – City Manager John Dougherty gave a blunt perspective of his view on the inefficient operations of Kingman City Council at Wednesday's Mohave Republican Forum, perhaps a reflection of his poor performance review that led the Council to not renew his contract.
For one, Dougherty said the city should not pursue construction of interchanges at Kingman Crossing and Rattlesnake Wash, or Rancho Santa Fe Parkway, at the same time.
Stick with Kingman Crossing, which has Kingman Regional Medical Center on board as a financial partner and presents the optimum potential for economic development, Dougherty told the packed room at Golden Corral restaurant.
"I'm just worried about going out on a limb for $30 million on a promise with ADOT that it's going to be there," Dougherty said.
The Arizona Department of Transportation had the Rattlesnake Wash interchange on its five-year plan with $20 million in funding, but that was years ago and the estimated cost is now closer to $30 million.
Dougherty said Kingman Crossing has been on the city's agenda for 30 years, and the primary reason nothing has been accomplished is because the winds of change sweep through the council every two years.
"I went to ICSC (International Council of Shopping Centers) in Las Vegas, and every developer is aware of Kingman Crossing. 'Come back and see me when you're ready.' We're losing a lot of interest from developers, unfortunately," Dougherty said.
State Sen. Sonny Borelli, R-Lake Havasu City, who frequently attends the monthly Forum, agreed with Dougherty.
"He's right. Political instability typically does hinder economic growth, or even roads," Borelli said.
Oh yes, the roads, a huge problem that's constantly drummed upon Dougherty's ears. He heard about it Wednesday, especially the condition of El Trovatore Hill and the ridiculous length of time to repair it.
"I own it," Dougherty confessed. "I made a mistake on El Trovatore Hill. It's not supposed to take this long. We have to take care of ADA (Americans with Disabilities Act) problems, and a historical something with the sidewalks. If somebody can explain how sidewalks are historical, please do because I don't get it."
Another citizen complained about the intersection at Stockton Hill Road and Beverly Avenue, noting the increase in accidents. And the section of U.S. 93 between Kingman and Dolan Springs that's supposed to be part of Interstate 11 is an embarrassment, he said.
Roads are one of the "turnoffs" for people looking to move here, said Richard Basinger, president of Mohave Republican Forum. He pointed out weeds growing in the middle of city streets, and roads that get washed out with nearly every rain.
"We have dirt roads in the city," Dougherty answered. "We don't construct roads. We accept roads for maintenance after they're put in. The simple solution is to get 51 percent of your neighbors to pay for it, and we'd be happy to put it in."