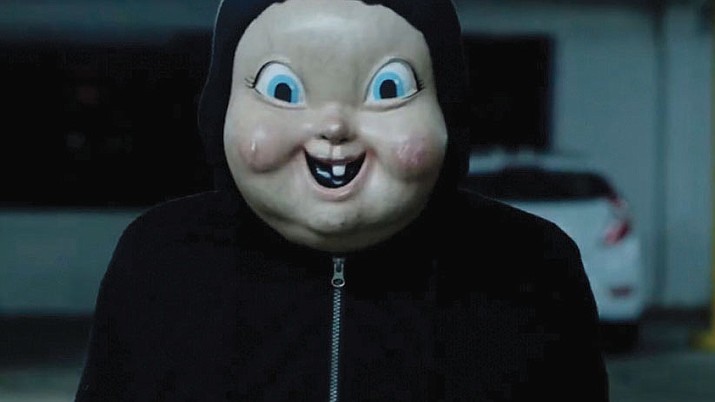 Originally Published: October 16, 2017 6:01 a.m.
https://www.youtube.com/watch?v=ntxS1bBg5o0
If you haven't seen the trailers for "Happy Death Day," it's basically about a young college sorority member (Jessica Rothe) who relives the same day over and over. The key here is it's her birthday and it's the day she is murdered. Sort of like the old "Groundhog Day" with Bill Murray. So it's not an original idea but it does have enough creativity to separate itself from "Groundhog Day" and inject a full range of emotion from boredom to laughter, suspense to watery eyes and the simple fight or flight with a little judicial violence.
Rothe wakes up in Carter's (played by Israel Broussard) dorm room wearing his t-shirt. Her phone goes off playing "Happy Birthday" and she looks disparagingly at Carter and demands some aspirin for her hangover. She quickly dresses and has a look on her face that screams she had no idea what happened the night before and she's already regretting it. She makes the walk of shame back to her sorority where we meet Rothe's roommate Lori (Ruby Modine). Modine comes across as the understanding roommate who surprises Rothe with a homemade cupcake with a lit candle for Rothe's birthday. Rothe takes the offering and summarily dumps it in the trash as she rushes off to class.
We get the impression Rothe is a callous, selfish coed whose only purpose in college is to go to parties and meet and sleep with men, including one of her professors. But as evening approaches another party looms while she avoids calls from her father. A masked, dark stranger follows Rothe to the party and summarily stabs her to death. As the screen goes dark we hear the familiar ring tone and Rothe is waking up again in Carter's dorm room.
By the third repeat, each time ending with Rothe's murder, it gets rather boring. But with each repeat Rothe takes advantage of knowing what's about to happen and seeks to take charge of the circumstances and tries to avoid getting murdered. Her character evolves from stereotype to heroine. And this is where the movie actually gets interesting because she almost has fun with the whole situation. Even coming up with a strategy to defend herself.
One of the standout qualities of "Happy Death Day" is that there are no big name stars. Rothe and Broussard are truly exceptional in their portrayal of stereotypical college kids that break out of the stereotype to become real stars.
Modine does well creating the comfortable character with a surprising flaw. And since we've established "Happy Death Day" falls into the "Groundhog Day" theme, I would be remiss to not acknowledge one of the funniest scenes that was reminiscent of "Harry Meets Sally" (with nods to fellow reviewer Fionda Brock). Carter and Rothe are sitting across from each other in a cafe when Rothe burps loudly. Carter responds with "nice tone" to which her flatulent response had me in tears.
I go to the movies to be entertained and I was certainly entertained by "Happy Death Day." You won't be on the edge of your seat, you won't be deathly frightened, there aren't any car chases or graphic violence. But I'll bet you'll have a good time anyway. "Happy Death Day" is rated PG13 and lasts an enjoyable 96 minutes.
I'll give it 4 out of 5 Miners.
More like this story