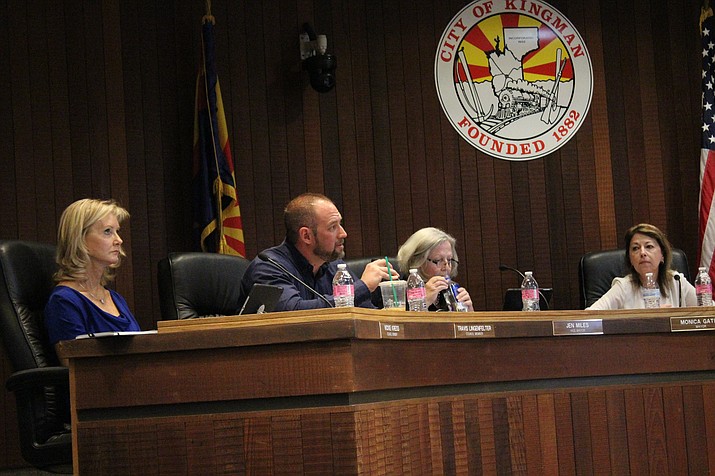 Photo by Claire Whitley.
Originally Published: October 16, 2017 9:54 a.m.
KINGMAN – City Council will be introduced to Sevende, the newest dog in Kingman Police Department's K-9 unit, and his handler, police officer Billy Fancher, during Tuesday's regular meeting at 5:30 p.m. at Mohave County Administration Building, 700 W. Beale St.
Fancher recently graduated from an intensive four-week training program in Texas, and Sevende is trained in drug sniffing, tracking and handler protection.
Items of interest on the agenda:
Contract for roadway design of Kingman Crossing Boulevard from Southern Avenue to south of Interstate 40. The design plans are currently at the 60 percent state.
Consider an offer from Werner Fleischmann, owner of Brunswick Hotel, to purchase the city-owned parking lot at Andy Devine Avenue and Third Street. Council has previously rejected an offer from Fleischmann after getting an appraisal on the lot.
Clarification over who is allowed to add or remove items from the Council agenda. Councilwoman Jamie Scott Stehly placed an item on the agenda for a Route 66 presentation by local historian Jim Hinckley that was removed from the last meeting.
Ban on circus animals and traveling animal performances, while exempting rural agricultural activities such as rodeos, FFA, 4-H and other educational activities.
Levi Pitts will give a presentation on his business plan for Cerbat Cliffs Golf Course.
Report on 2017 Andy Devine Days Festival held Sept. 22-23 and coordinated by the City of Kingman for the second year.