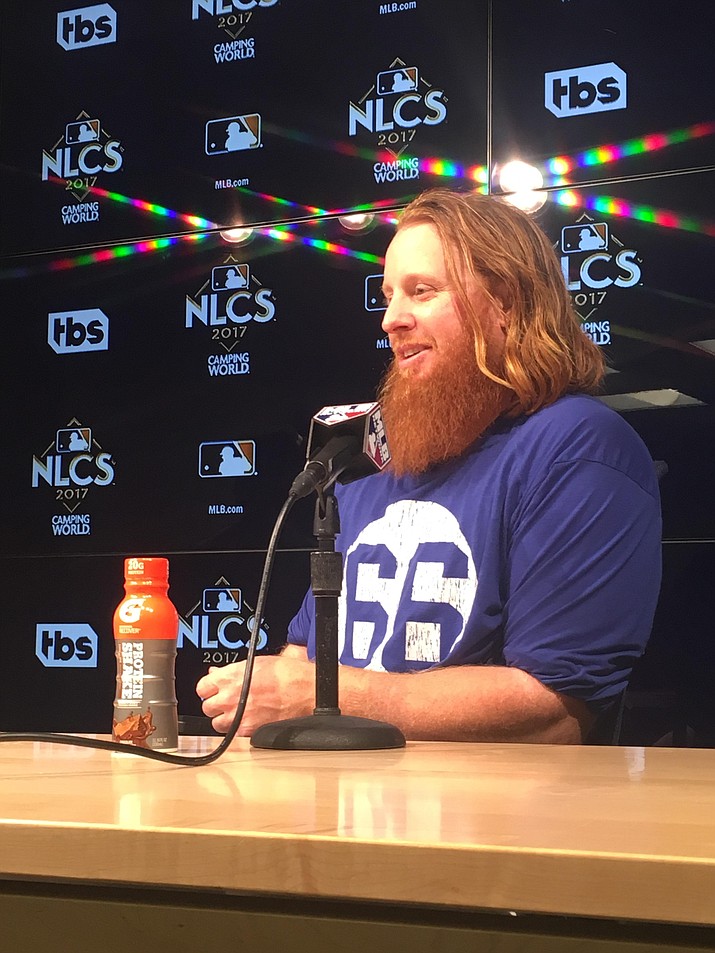 Photo by Beau Bearden.
Originally Published: October 16, 2017 9:32 a.m.
LOS ANGELES – It was only fitting that Game 2 of the National League Championship Series ended the way it did Sunday night at Dodger Stadium.
On the 29th anniversary of Kirk Gibson's memorable walk-off home run in Game 2 of the 1988 World Series, Justin Turner provided his own late-game heroics by crushing a three-run shot to center to give the Los Angeles Dodgers a 4-1 win over the Chicago Cubs.
"One of my earliest baseball memories was being at my grandma's house and watching that game when Gibby hit that homer," Turner said. "I can't even put it into words right now. It's incredible. … That's something down the road hopefully many years from now I'll get to tell stories about."
Turner's hit will definitely go down in history if the Dodgers can finish off the Cubs in the seven-game series that now shifts to Chicago for Games 3-5.
With that said, the Cubs didn't help themselves in the bottom of the ninth inning as relief pitcher Brian Duensing walked Yasiel Puig to start the frame. Charlie Culberson then laid down a sacrifice bunt to move Puig to second.
Following Duensing's strikeout of rookie Kyle Farmer, John Lackey was called upon and walked Chris Taylor before yielding Turner's game-winning home run.
"That's the way our offense has been all year," Turner said. "It's about putting together tough at-bats and passing the mentality to the next guy. Tonight was just my turn."
Dodgers manager Dave Roberts knew that Turner had it in him, and his final numbers Sunday proved it – 2-for-4 with four RBI's and one run scored.
"He just has that pulse where he can just kind of keep his calm and stay within the strike zone," Roberts said. "Also, he's not afraid to fail and just wants to be in that spot. But Chris Taylor's at-bat to grind Lackey and keep the line moving, that was huge as well."
Despite giving up the game-winning home run, Lackey wasn't dealt the loss. Instead, Duensing was saddled with the loss and closer Kenley Jansen picked up the win after pitching a scoreless ninth with two strikeouts.
Both team's starting pitchers didn't last long in the game. Chicago's Jon Lester went just 4 2/3 innings, yielding one earned run on three hits with five walks and two strikeouts.
L.A.'s Rich Hill fared a little better – giving up one earned run on three hits with eight strikeouts and one walk in five innings of work. The Dodgers bullpen took care of business from there as they shut down the Cubs.
"Offensively, we've kind of been stifled," said Chicago manager Joe Maddon. "We're really fortunate to be in this situation based on the number of runs we've scored in the last week. We just have to do a better job at the plate."
More like this story