Originally Published: October 17, 2017 5:22 p.m.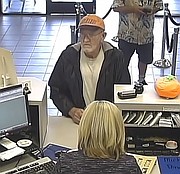 BULLHEAD CITY – An elderly white male about 70 years old is suspected of robbing the U.S. Bank in the 2800 block of Highway 95 in Bullhead City Oct. 17, and the Bullhead City Police Department is seeking the public's help in identifying the armed robbery suspect.
The suspect presented a teller a note and showed the teller a handgun in his waistband. He left with an undisclosed amount of money.
He is approximately 6-feet tall and about 170 to 180 pounds. He was wearing eyeglasses, an orange baseball cap, white shirt, and a dark colored jacket. The suspect left in what appeared to be a gold colored Dodge Caravan.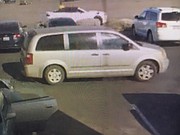 If anyone has information on this outstanding suspect, please contact the Bullhead City Police Department 928-763-1999 and ask to speak with detectives, or call Mohave Silent Witness at 888-227-8780. Callers may remain anonymous.
- Information provided by Bullhead City Police Department
More like this story