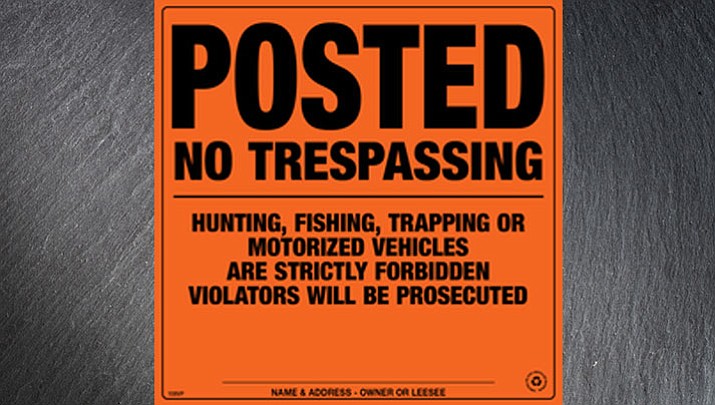 Photo by The Daily Miner.

Originally Published: October 17, 2017 5:55 a.m.
Sportsmen in Arizona, and all over America are seeing more and more private lands being posted, which means access is being denied. And landowners are posting their lands for a number of reasons. Leaving litter is a common complaint by landowners. So is interfering with a ranch operation, or hunters not staying on established roads. There are many reasons why this happens and all are valid.
Hunters, campers, UTV and ATV riders, and 4x4 enthusiasts who don't obey ranch rules are causing more and more lands to be locked up.
And while the Arizona Game and Fish Department is constantly seeking ways to keep private lands open for hunters and others, it is an uphill battle for the agency. The AZGFD has several programs available to private land owners to mitigate problems or issues that hunters or wildlife create.
But it is up to the individual sportsmen to make sure they follow the rules and their best to maintain good relations with landowners and lessees.
Arizona is comprised of 114,642 square miles of land. Of that about 40 percent is public lands. The state has two national parks and 16 national monuments within its borders. There are six national forests in Arizona.
Arizona, despite being known as a desert state, has a lot of diverse habitats and wildlife.
Outdoor recreation accounts for millions of dollars annually, and hunting, fishing, camping, hiking, 4-wheeling and wildlife photography are just some of the outdoor activities that citizens can participate in.
However, with a lot of lands within our state's boundaries being privately controlled, many face the issue of knowing what is properly posted private property.
The answer can be found in Title 17-304 of the regulations of the AZGFD and can be found in the 2017-2018 Arizona Hunting Regulations booklet.
Understand that private landowners do have the right to deny access on their private property. And while they can and do control access, they do not own or control any wildlife that is found within their property.
Wildlife is owned by the state – people like me and you – so private property owners are not able to hunt wildlife found on their property unless they follow the law about seasons, tags, and other rules established and approved by the Arizona Game and Fish Commission.
17-304 states that a landowner can post their property in two different ways.
First, by signage that is at least 8 x 11 inches with plainly legible wording in capital and bold faced lettering at least 1 inch high.
These signs must contain the words "No hunting," "No trapping" or "No fishing" either as a single phrase or in any combination.
To be legal, a sign must be placed on a structure or post at least 4 feet above ground at all points of vehicular access, at all property or fence corners and at intervals of not more than 1/4 mile along the property boundary, except that a post with 100 square inches or more of orange paint may serve as the interval notices between property or fence corners and points of vehicular access. The orange paint shall be clearly visible and shall cover the entire aboveground surface of the post facing outward and on both lateral sides from the closed area.
The law further states under section D that the entry of any person for the taking of wildlife shall not be grounds for an action for criminal trespass pursuant to section 13-1502 unless either the land has been posted pursuant to this section and the notices and signboards also contain the words "No trespassing."
Or the person knowingly remains unlawfully on any real property after a reasonable request to leave by the owner or any other person having lawful control over the property or the person knowingly disregards reasonable notice prohibiting trespass at the person's entry to real property.
Note that private landowners can give permission to hunt on their private lands. Obviously it is recommended that the permission be in writing.
That rule also states that persons who lease state or federal lands cannot post those lands without permission of the Arizona Game and Fish Commission. Those persons who illegally post public lands are subject to having their license privileges revoked for up to five years by the commission.
These laws are to protect private property owners and the general public as well.
If you see a situation that doesn't seem to conform with the requirements of the posting law, rather than risk a confrontation with a landowner, call the Arizona Game and Fish Department and let them handle the situation.
We all need to do our part to maintain good relations with all landowners and we all have to understand and obey the laws dealing with access or private and public lands.