Photo by Hubble Ray Smith.
Originally Published: October 18, 2017 6 a.m.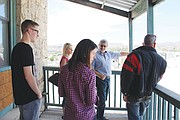 Nobody holds a greater stake in downtown revitalization than Werner Fleischmann, the Swiss real estate investor who owns the Brunswick Hotel, Beale Celebrations, office bungalows and a couple of small business shops.
He's got about $2 million wrapped up in historic downtown Kingman, his crown jewel being the Brunswick Hotel that he bought in foreclosure in 2012. It was formerly owned by Debra Sixta.
Fleischmann has taken small steps toward reopening the hotel, striving to keep the building looking as close as possible to its appearance when it was built in 1909.
Of course, it didn't have the fire sprinkler system, new plumbing, heating and restrooms that meet requirements of the Americans with Disabilities Act, all of which comes at a cost.
Fleischman said it wouldn't take much to bring the restaurant and bar back to life on the ground floor. Not much has changed since it was last open in early 2010. The bar's gone, but it wasn't the original.
"I learn something in Switzerland," Fleischmann said Monday as he led a tour of the hotel for City Council members. "Our buildings are 300 years old. You have to find compromise. You either build to today's standards or you preserve the history." Fleischman said he personally had no problems with former Kingman building official Jim McErlean, who resigned in June shortly after building permits and inspections were folded into the purview of the Kingman Fire Department.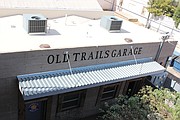 "Ideally, we keep as much early (construction) as we can," he said in broken English, sometimes searching for the right words.
Councilman Stuart Yocum requested the tour to gather information on Fleischmann's progress and plans for the hotel in advance of Tuesday's City Council meeting, where one of the items to be discussed involves Fleischmann's offer to buy the city-owned parking lot at Andy Devine Avenue and Third Street, next to the Brunswick.
He currently leases the parking lot for $2,000 a year, but said he would feel "safer" about his $1.5 million investment in the Brunswick if he owned the parking lot, which is next to Garibaldi's deli.
Fleischmann offered to buy the parking lot a few years ago. Council directed staff to get an appraisal of the lot, which is about 5,000 square feet, then rejected Fleischmann's offer of about $30,000.
He's back in town, accompanied by his teenage son, David, to renegotiate the purchase of the parking lot, as his lease will expire in March. He needs to provide parking for small businesses that will be operating out of the hotel.
Fleischmann noted that he's never asked the city for a penny, never received any grants, and that it's all his money at risk, but he needs the parking lot for his business.
"It makes no sense to invest in something that doesn't work," he said.
Yocum said he'd like to see City Council take a business-friendly approach with Fleischmann.
"I like what I see," the councilman said during the tour. "I hope we can be as cooperative as possible to get the building open."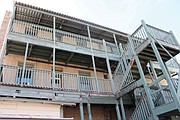 Yocum said the city is required to appraise the parking lot at fair market value and open the bidding to anyone who wants to buy it, with no preference given to business ownership in the area.
Fleischmann talked about a number of options for restoring the 25-room hotel, including turning some of the rooms into offices for small businesses. A third-story suite that was once the manager's residence offers spectacular views of the surrounding landscape and could be leased for extended stays by traveling nurses, lawyers and others.
"It cost me a fortune for the restaurant because I need the bathrooms," Fleischmann said. "Having the business only, I avoid that problem."
In his restoration overview, Fleischmann talked about the potential for the hotel and for downtown Kingman.
"It may take time, but we have to have it finished," he said. "Of course, small business, small jobs, maybe not so fantastic to write as big companies, but this is one thing that helps you downtown."
"No doubt if you open the Brunswick, it will help downtown," Councilwoman Vickie Kress added.