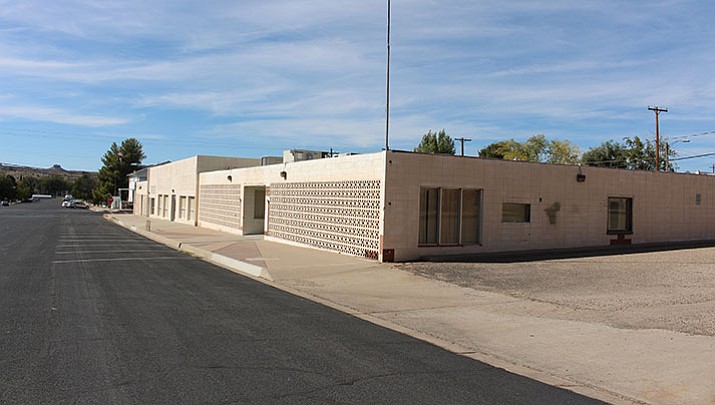 Photo by Hubble Ray Smith.
Originally Published: October 18, 2017 5:55 a.m.
KINGMAN – The removal of asbestos and lead-based paint could begin as early as next week on the Arnold Plaza project with completion expected in November, said Pat Farrell, president of Jerry Ambrose Veterans Council.
ATC Group of Phoenix will be handling the work, with the contract under the Arizona Department of Environmental Quality. ADEQ awarded Mohave County a $120,867 Brownsfield grant for asbestos abatement.
The work was scheduled to begin Oct. 10, but a procurement issue came up that delayed the project, Farrell said.
Mohave County Board of Supervisors on Monday approved an amendment to the ADEQ contract. The original item indicated ADEQ would provide project management, including all procurement activities to identify contractors.
ADEQ issued an amendment correcting the original language to "accurately represent" the county's responsibilities with regard to project management and payment to contractors for work performed.
"It's been an experience, to say the least," Farrell said. "Hope is defined as a feeling of expectation and desire for a certain thing to happen."
And he's been hoping for a while. Arnold Plaza has been vacant since 2005 when Mohave County Treasurer's and Assessor's offices moved to a new location.
At one point, the building was considered for demolition at a cost of $500,000, possibly replaced by a parking lot, but Farrell saw a higher and better use for the building.
"I kind of like old buildings. I hate to get rid of something with usefulness, and the location of the building is great," he said. "A parking lot is not the way to go, as far as I'm concerned."
His goal is to turn Arnold Plaza into a resource center to help homeless Mohave County veterans get back on their feet. The facility would provide temporary housing for 20 to 22 veterans, but would not be a "flophouse," Farrell said.
The U.S. Department of Veterans Affairs and Housing and Urban Development collected data in 2017 through veteran "stand downs" and surveys that showed an urgent need for a proactive approach to ending homelessness among veterans, especially in rural areas.
Arnold Plaza has space for resources that will help homeless vets in filing claims for medical and other benefits, employment training and work opportunities. Plus it's close to other resources such as state and county offices, City Hall and St. Vincent de Paul charity organization.
ADEQ, in partnership with Mohave County, will be responsible for ensuring that contractors perform work in accordance with National Emission Standards for Hazardous Air Pollutants.
After asbestos abatement is completed, JAVC will purchase the building from the county for $58,500.
"This is not a turnkey project and architectural, construction and refurbishment will require time and most importantly money," Farrell said.
Donations to the project can be made through the website at www.javc.org.
More like this story