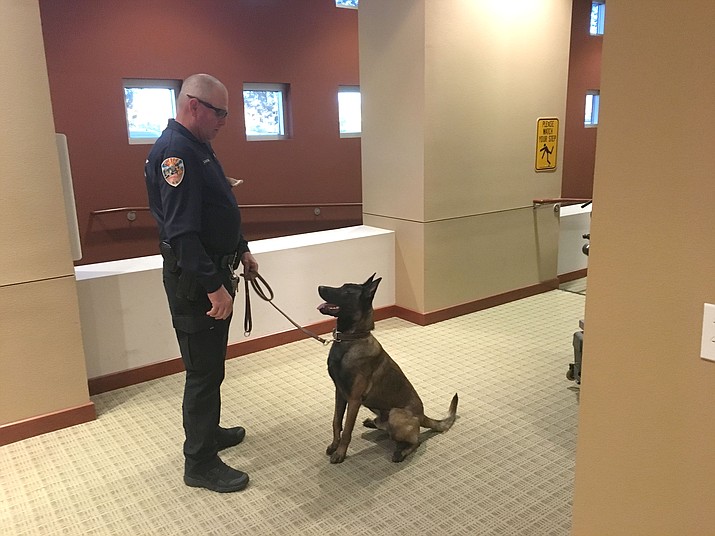 Photo by Hubble Ray Smith.
Originally Published: October 19, 2017 5:56 a.m.
KINGMAN – Sevende, the latest dog to join Kingman Police Department's K-9 unit, was officially presented with his badge Tuesday during an introduction to City Council.
The dog and his handler, Officer Billy Fancher, recently graduated from an intensive four-week training program in Texas and are now working in patrol. Sevende is trained in drug sniffing, criminal tracking and handler protection.
Police Chief Bob DeVries said it was an extensive search to find a dog with the right characteristics for the job. The K-9 unit is instrumental with assistance of officers on patrol, he said.
"A classic example of the service they provide … last year in one week our three K-9s assisted with the interdiction of a large drug load, helped to track two injured and lost hikers and assisted MCSO in tracking an armed gunman in Golden Valley. They are a valued part of our team," DeVries said.
The cost to buy Sevende and for his training was 100 percent covered by RICO funds, DeVries said. Normal operational costs are covered in the police department's line item budget.
According to the U.S. Police Canine Association, police dogs can cost $2,500 to $4,000 to buy, and training can run $8,000 to $10,000.