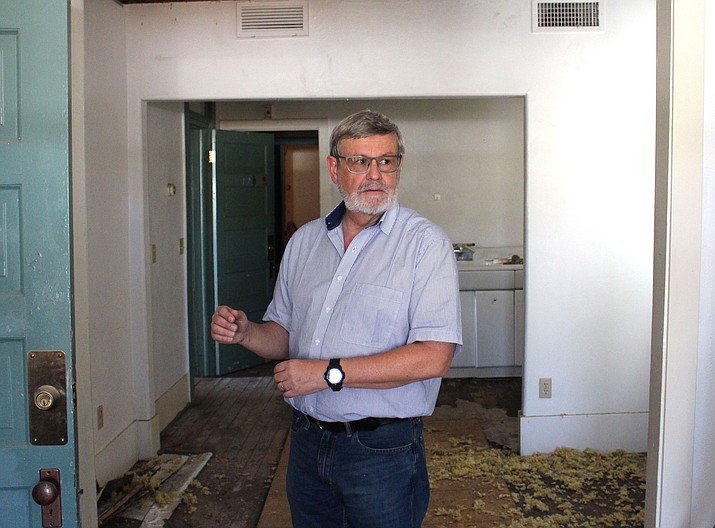 Photo by Hubble Ray Smith.
Originally Published: October 20, 2017 5:59 a.m.
KINGMAN – Werner Fleischmann returned to Switzerland no more certain about the acquisition of a city-owned parking lot crucial to the renovation of Hotel Brunswick than when his $30,000 offer was rejected a few years ago.
City Council voted unanimously Tuesday to get an updated appraisal of the property at Andy Devine Avenue and Third Street, about 5,000 square feet, and then put out a request for interest in buying the property.
The city can auction the property through a sealed bid with prequalified bidders, attorney Carl Cooper said.
"You may want to tie it to the benefit of what's going on, and talk about the property going forward with the developer," he said.
Cooper didn't recall the last time the lot was appraised, and state law doesn't require an appraisal, but it would set a minimum bid, he said.
Fleischmann told the Council he's been remodeling Brunswick Hotel in phases, including a new roof and the remodeled Old Trails Garage with two finished retro-style studios in back and Garibaldi's deli in front.
The city demolished the old Mulligan building that was caving in with the roof, and paved a parking lot at a cost of $15,000 to $20,000, including bus stop benches, kiosk and landscaping. Fleischmann leases the lot for $2,400, and his lease expires in March.
Councilman David Wayt asked Fleischmann if he would leave parking spaces for the public, should the city prequalify him for the bid.
Fleischmann said he would allow public parking on the lot, as long as it didn't interfere with the small business offices he has planned for the hotel. He would also leave the bus stop in place.
"I need the security of parking," Fleischmann said.