Originally Published: October 23, 2017 5:58 a.m.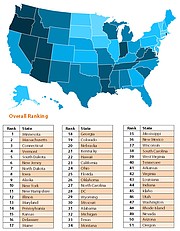 PHOENIX – "Let's all take one deep breath together, and I'd like you to turn to the person to the left, or right of you and I'd like you to say to them, 'I'm glad you're here and I will not forget this moment,'" said Jenny McLellan, in front of those who attended the 22nd Annual Candlelight Celebration for Mental Health Awareness in downtown Phoenix.
McLellan, a representative of the Mental Health Awareness Coalition, asked the audience to "embrace the journey," which was also the theme of this year's celebration.
A celebration at times marked by the stigma that comes with mental illness.
The subject has come to the forefront of the national conversation in the last decade, after shootings like those committed by Jared Loughner, who shot U.S. Rep. Gabrielle Giffords in Tucson, and Adam Lanza, who shot and killed 20 children in Newtown, Connecticut.
Terry McDermott, education coordinator with the National Alliance on Mental Illness, shared his own journey, one which entailed confronting suicide.
"My father died by suicide when I was 30 years old, and that was when my suicidal issues started, and nobody ever knew it, and every time I'd become suicidal I would think about a plan. I never had a clue that maybe there was mental illness involved with that," McDermott said.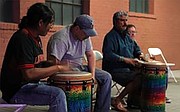 It took an intervention from his son, a police officer, and an ensuing hospitalization to get McDermott the help he needed, including joining a peer support group.
Thursday's event was hosted by the Arizona State University Center for Applied Behavioral Health Policy and the Mental Health Awareness Coalition.
While events like this help shed a light on the multiple resources available to Valley residents, statistics show Arizona still ranks 40th in the country when it comes to the accessibility of mental health care, according to a 2016 study conducted by Mental Health America.
Some of the indicators used to measure accessibility included cost of insurance, healthcare coverage, and workforce availability.
The estimated 250 attendees had the opportunity to walk around Civic Space Park and visit with representatives of many different organizations, groups and resources available to Maricopa County residents.
One of those organizations was Valle Del Sol, which offers an integrated approach to behavioral and social services.
Arbita Ferozepurwalla, a director at Valle del Sol, believes that while Arizona has improved when it comes to offering resources tailored toward mental health, it is also important to expose community to the available options.
"Holding some of these events are great, having this happen more often, making everyone in the community aware is really important, and also being in different neighborhoods," she said.
Ferozepurwalla did say, however, there's still progress to be made toward de-stigmatizing mental illness.
"Some of it has to do with lack of education others have around mental health in general, whether it has to do with health issues, substance abuse, serious mental illness. But also I think it has a lot to do with health literacy," she said, adding that events like the candlelight celebration are a step toward improvement.