Originally Published: October 24, 2017 5:55 a.m.
Drawing an antelope tag in Arizona has become very difficult; there are many more applicants than tags are available.
There are sportsmen out there that have waited over 20 years to draw a coveted Arizona tag.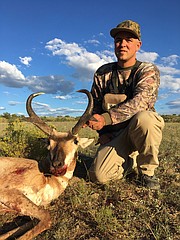 So when a father and son both draw archery antelope tags after they have applied separately for tags in different units. That is a fairly unusual occurrence.
But it happened this year to local resident Eric Wolsey and his son Matt.
Eric drew one of the two archery antelope tags that were offered in game management units 15A and 15B. In 2016 the draw odds were only 11 percent. Eric had waited a long time to hunt antelope with his bow. He had accumulated 11 bonus points. Though Eric had drawn archery antelope tags twice before, he had not tagged a buck.
Matt was fortunate when he drew one of the 10 archery tags that were offered in unit 18A. In 2016 the odds to draw a tag there was just 13 percent. Matt had just 4 bonus points. This tag would be Matt's second, though he did not fill his first tag.
Every archer knows that drawing an antelope tag does not guarantee one of success. Antelope have eyesight equivalent to 10 power binoculars, and the way their eyes are placed in their heads, they can see in almost a 360 degree circle.
Antelope are the fastest big game animal in North America. They have a huge wind pipe and high capacity lungs and a large heart that makes them capable of running long distances at speeds up to 60 miles per hour.
Antelope are usually hunted two ways. One method is spot and stalk, which given the animal's keen sense of sight, hearing and smell, getting within reasonable archery range is always tough.
The other popular technique is to sit in a blind near a water hole that is being used by the animals.
But sitting all day in a hot blind, where temperatures often exceed 100 degrees, isn't an easy thing to do.
And on these hunts, the archers would try it all in order to be successful.
On opening day Matt and his friend Mike Stapleton hiked to the top of a tall mountain to glass for antelope. It didn't take long to find antelope, but they were a long ways off.
It was decided that they would move to a closer knob for a better look at them and watch what the herd was doing.
They saw that a buck was heading towards a water hole and Matt decided to try and cut the buck off.
He slowly and patiently moved into position as the thirsty buck continued to travel toward the water.
Wolsey hadn't been in position long when the unsuspecting buck stepped out at a range of 58 yards.
Wolsey had prepared to shoot out to 90 yards and had shot literally hundreds of arrows at that distance in preparation of the hunt.
As he settled the sights on the buck, he got what is called "buck fever" and when he released the deadly broad tipped arrow, the arrow flew straight, but just inches below the buck.
For some reason the buck didn't flee at the shot. As a matter of fact, he seemed unfazed by the situation.
Wolsey got settled down and put another arrow on the rest. After getting his breathing under control, once more he settled the pin on the shoulder of the buck and squeezed the release on his bow.
This time the shot was dead on and hit the buck through the heart. The buck ran just 20 steps and piled up. Matt's long-awaited hunt had ended on opening day. The buck was an older one, with polished tips and good prongs. Matt used a Mathews bow, and was shooting Easton Bloodlines arrows topped with a Rage broadhead.
Eric's hunt had been much different. He was assisted by friends John Calley and Janner Greenhow. Eric had made several attempts to stalk bucks that they had found in his units, but he had never got close enough to get a shot.
Wolsey decided he was going to sit at a waster where they knew antelope in the area were drinking at.
High winds had caused his blind to shift and when a buck came in, Eric had to hold his bow at a weird angle. The string slapped his arm leaving a large red welt and some serious bruising.
The buck ran off, unhurt.
On Day 3 Matt and friend Rink Gordon joined in to find Eric another buck. They found one, but the stalk on the buck failed.
Eric decided to go sit in the blind again.
Several hours later, a buck walked into the water, and this time Eric was ready and at the shot, the buck ran away.
Eric couldn't see where the buck had gone, so he texted his son and told him that he had hit a buck and was waiting before going out to look for it.
When the rest of the crew arrived about 30 minutes later, they saw that the buck had expired about 80 yards from where the shot had been taken.
Eric's buck was a good one.
Eric used a Mathews bow shooting Gold Tip shafts and topped with a Montec G-5 broadhead.
The father-son team had beaten some huge odds in drawing a tag, but for them to take two bucks in just three days was a remarkable accomplishment. This was the first antelope they had ever taken with a bow.
The hunters have not decided at this point if they are going to have their bucks mounted. They also haven't had them scored, though Matt believes that both would score enough to put them in the prestigious Pope and Young record book.
More like this story