Photo by Hubble Ray Smith.
Originally Published: October 24, 2017 6 a.m.
Submit your Halloween pictures
Halloween is right around the corner, and that means costumes, spooky recipes, jack-o-lanterns and haunted houses. Send us your Halloween photos to share with the community.
Submit your Halloween photos to life@kdminer.com as soon as possible and we'll run them in our print edition and online.
Between pop culture, superheroes and movie characters, there's no shortage of ideas for Halloween costumes.
Some 179 million Americans plan to take part in Halloween festivities this year, compared with 171 million in 2016, according to the Halloween Industry Association. They will spend a record-high $9.1 billion, an increase from $8.4 billion last year.
If you're looking for an inexpensive, do-it-yourself option for a costume, try the Kingman Goodwill store that opened earlier in October at 3320 Stockton Hill Road.
It's got great deals for costumes, home decorations and items of interest for last-minute Halloween shoppers, said Courtney Nelson, vice president of marketing for Goodwill of Central and Northern Arizona.
Goodwill is stocked with children's Halloween costumes in the $3 to $10 range, some of which have only been worn once for a couple of hours, she said. Adult costumes are $10 to $25.
"It definitely depends on how extravagant you want to get," Nelson said.
Goodwill is a great place to find clothes for traditional Halloween costumes such as werewolves, vampires and witches.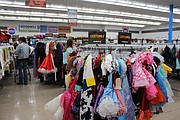 "That's a costume you want to tear up the clothing, rip them and make them look worn," Nelson said. "You don't want to spend a lot of money on them."
Superhero costumes such as Wonder Woman are big sellers at Spirit Halloween, district manager Brian Brown said between helping customers at the store at 3990 Stockton Hill Road.
People are also coming in for costumes from the 1993 Disney movie, "Hocus Pocus," which has developed a cult following, Brown said.
"Then, of course, you can never go wrong with your classic horror guys, Freddie and Jason," the store manager said. "Everyone enjoys Halloween. It's fun. I think it's a universal holiday."
People typically spend $30 to $40 on a costume, including props and accessories, he said.
Brown said one of the "cool" things about his job is to see small children get so excited over their costumes. One boy started crying when his parents went to take off his "Toy Story" outfit.
The top costume for children is an action hero or superhero, while the top pick for adults is a witch. Pets aren't left out as 10 percent of consumers surveyed said they were dressing their pet as a pumpkin.
Goodwill is having a Halloween costume contest on Facebook. Take a photo in your costume, post it on Goodwill's Facebook page at www.facebook.com/GoodwillAZ/ by midnight on Halloween and win gift cards of $250 for first, $75 for second and $50 for third.
"We love October," Nelson said. "It's such a festive time of year and our shoppers get a kick out of creating unique costumes."
She encourages people to shop early for the best selection of Halloween costumes and decorations, and keep an open mind.
"You may come in thinking one thing and leave with a totally different option. But we guarantee it'll be fun and there are plenty of ways to save over traditional costume shops," Nelson said.