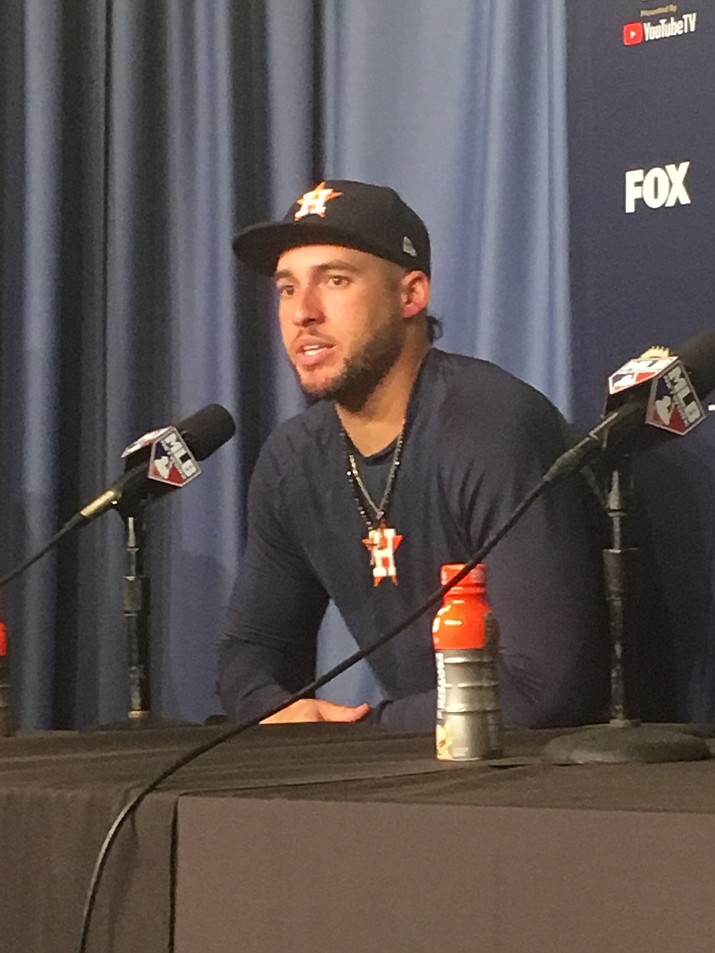 Photo by Beau Bearden.
Originally Published: October 26, 2017 5:16 a.m.
LOS ANGELES – In a game that featured a World Series-record eight home runs, it was George Springer's two-run shot that propelled the Houston Astros to a 7-6 win over the Los Angeles Dodgers in 11 innings Wednesday night in Game 2 of the World Series.
"A lot of big time players stepping up and getting big swings," said Astros manager A.J. Hinch. "But I'm just glad we got the last out. This was a hard game to finish, obviously for both teams. There were some really key hits. It's hard to put into one game – let alone one series."
Springer's big hit marked just the third home run in the 11th inning in World Series history. It proved to be the difference-maker, but Charlie Culberson did make it interesting with a solo homer in the bottom of the frame to bring the Dodgers within one run. However, Los Angeles couldn't give its fans a walk-off win as Yasiel Puig struck out swinging to end the game.
"Obviously it was an exciting baseball game," said Dodgers manager Dave Roberts. "… It was an emotional rollercoaster. There were big plays defensively, some big pitches made, some big hits and some homers."
The long ball was definitely on display, especially in extra innings as Houston and L.A. combined to hit five home runs – an MLB all-time high.
Jose Altuve, who was named the American League's Hank Aaron Award Winner prior to the game, started off the fireworks with a solo shot in the top of the 10th. Carlos Correa followed with a homer of his own to give the Astros a 5-3 advantage.
However, Puig responded in the bottom half of the inning with a solo shot to left center field and then Enrique Hernandez drove in Logan Forsythe to send the game to the 11th inning.
The Dodgers were still alive, but Springer ultimately gave the Astros all the runs they needed after Cameron Maybin singled and stole second base to set up the game-winning home run.
"It's doesn't get any better than this game," said Houston's starting pitcher Justin Verlander. "That was one of the most gut-wrenching, most exciting games – you can't have a better game of baseball than that. For it to be in the World Series, it's incredible."
While Velander didn't factor into the decision, he did see relief pitcher Chris Devenski pick up the win after striking out Puig to tie the World Series at 1-1 and give Houston its first World Series win.
"These players don't quit – we're not going to concede anything," Hinch said. "This is the time of our lives and it's on the biggest stage. We're chasing something that for your whole lifetime seems unattainable."
As the Astros search for their first World Series championship, the Dodgers are looking to win their first title since 1988 as the series moves to Houston for the next three games. Game 3 is set for 5 p.m. Friday.
"All year long we've done a nice job of recovering, turning the page – whether it's a big win or tough loss," Roberts said. "Just re-focusing on the day at hand. Our guys played to the end. It was actually a really hard fought game. Those are tough, obviously."
More like this story