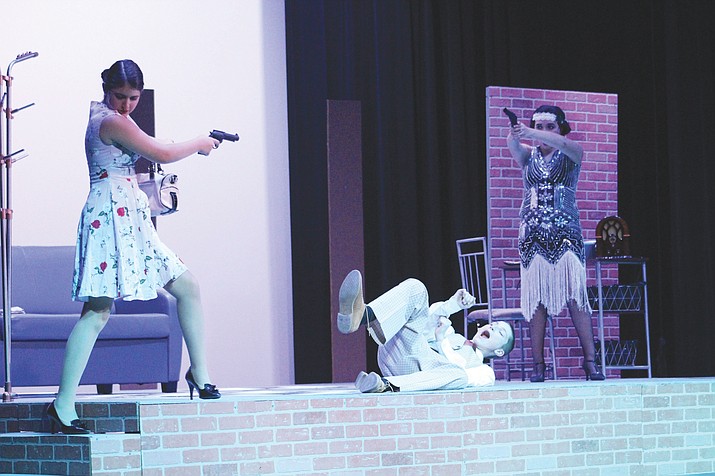 Photo by Claire Whitley.

Originally Published: October 26, 2017 6 a.m.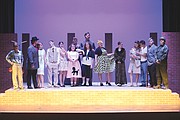 Ever wondered what the walls of your home would say if they could speak? Would they tell stories of other families from across the decades?
In "The Loft" by James Brosnahan, presented by Lee Williams High School, the walls do just that.
"The Loft" is a play that jumps through the 1930s, '40s and '50s as a condemned Pittsburgh apartment reminisces about its occupants.
From the dress rehearsal Tuesday, the LWHS students are well on their way to having a fantastic opening night. Caitling Gilbert-Kroen, the understudy of Loft, was a mesmerizing performance. If Angel Mercado is half as good as Gilbert-Kroen, the viewer will be entranced by the embodiment of the apartment.
Ruth (Celeste Velazquez), Bill (Keegan Borovicka) and Ted (Thomas Hurst) stood out the most as characters. Borovicka did an absolutely amazing job portraying a World War II veteran battling civilian life, Velazquez was dazzling in her flapper attire and Hurst, by opening night, will have nailed his riveting monologue.
Photo Gallery
Lee Williams The Loft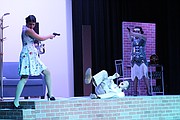 The Lee Williams High School production of "The Loft" begins Thursday and continues through Saturday. Tickets are $5.
The overall tone of "The Loft" is a serious one. There are a few moments that should make audience members laugh, but the deeper undertones and watching the history of a single apartment unfold is what will captivate the audience.
The set was incomplete Tuesday, but the students and director Sarah Kucharek were adding the finishing touches after rehearsal. Kucharek told me she had made some distinct artistic choices for the set. The minimalistic layout pushes more focus onto the actors and their interactions within the loft as well as outside the loft. Pantomiming is used often and since the set is so simple, great focus has been placed on makeup, hair, costuming and even speech patterns.
Kucharek said Tuesday she is confident in her students and hopes the audience enjoys the world they have created. It is a world well-worth getting invested in for an hour or so.
"The Loft" will run 7 p.m. today through Saturday. Tickets are $5 for general admission, and $4 for senior citizens, members of the military, and students with their IDs.