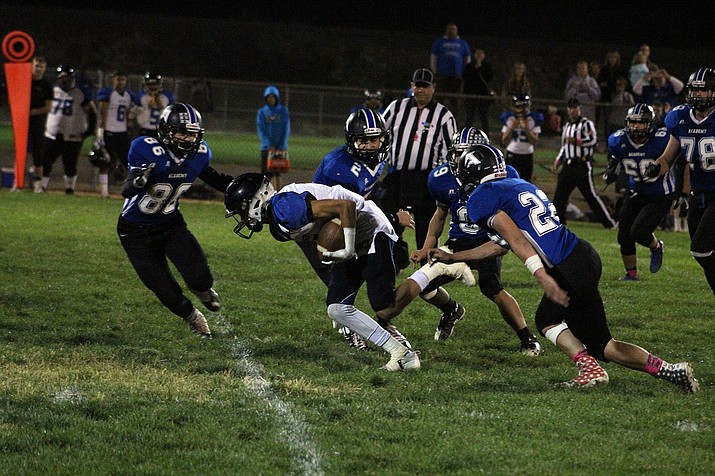 Photo by Beau Bearden.
Originally Published: October 27, 2017 6 a.m.
KINGMAN – All three local high school football teams are in action at home tonight, but the most meaningful game is 20th-ranked Kingman Academy's 7 p.m. contest against Arete Prep at Southside Park. While a win doesn't help the Tigers' region record, a loss would surely ruin any chance at an at-large bid to the 2A State Playoffs.

"We want to be executing and be on fire if we end up getting in because of a Tonopah Valley loss or we get in as a ranked team eventually," said Academy head coach Dan Stroup. "Then we're ready to go. We're not looking like this is the end of the season. We're projecting that we'll be going further."
The Tigers (6-3, 4-1 2A Central) currently sit in first place in region play, but Tonopah Valley has yet to play a fifth game. The No. 15-ranked Phoenix (5-3, 3-1) only need a win over Paradise Honors tonight to clinch the region as they own the tie-breaker after defeating the Academy 30-20 on Oct. 13.
There is still a chance the Tigers can still make the playoffs with a Tonopah win.
"It really depends on what happens tonight," Stroup said. "There are a lot of teams that are playing pretty good teams that are ahead of us in the rankings that will have another 'L' after the night is over. So who knows?"
All the Academy can do is take care of business against an unranked 2A Independent squad. The Chargers (2-5) have dropped their last five contests, including a 44-0 loss to Parker last Saturday.
"They've played some tough schools and their kids are tough," Stroup said. "They hang in there. They played Santa Cruz Valley, Parker and they're going to play us. Those are three good schools. … They're a fairly new program that's starting off. We're definitely going to come out and play hard."
Lee Williams vs. Mohave, 7 p.m.
For one last time, the 13 seniors on the Lee Williams football team will lace up their cleats and play at home against No. 31 ranked Mohave.
"Coaching them four years or not, I love these seniors," said Volunteers head coach Clint Sasse. "They are a great group of kids and they will be truly missed. I know our kids and I know that it will be a special night. Every kid is going to give everything they have to send these seniors out with a win."
No. 28 ranked Lee Williams (4-5, 1-4 4A Grand Canyon) will also be looking to win five games for the second consecutive season.
The Thunderbirds (2-7, 1-4) are just looking to end a five-game losing streak – with its last win being a 21-0 victory over Coconino on Sept. 15.
"They are a very big team up front," Sasse said. "They have a good running back that we have to control and get to the ground. They are simple in their schemes offensively and defensively and play their game no matter the situation."
No matter the result tonight, Sasse is still proud to see the development of the team from the beginning of the season.
"I can tell you that we are leaps and bounds from where we were last year as a total football program," he said. "We are excited for what the coming years have in store for us."
Kingman vs. NW Christian, 7 p.m.
The Kingman High School football team has faced its fair share of ups and downs in 2017. With that said, Bulldogs head coach Cam Wierson has kept the message the same, even as his teams welcomes seventh-ranked Northwest Christian to town.
"Each week, our mission is to play hard from start to finish and enjoy the ride," he said.
Kingman (2-7, 0-4 3A West) has definitely has it work cut out, as the Crusaders (7-2, 4-0) haven't lost a game since Sept. 22 – a 37-14 setback to Yuma Catholic on the road.
"They're the best coached team on our schedule," Wierson said. "Their kids are fundamentally sound and they are most often schematically sound."
Whether the Bulldogs come out on victorious or not tonight, Wierson is happy to see that the team has made strides from the start of the season.
"As it sits currently, I can confidently say we have a small handful of our kids that have developed themselves into highly competitive and high character young men," he said.