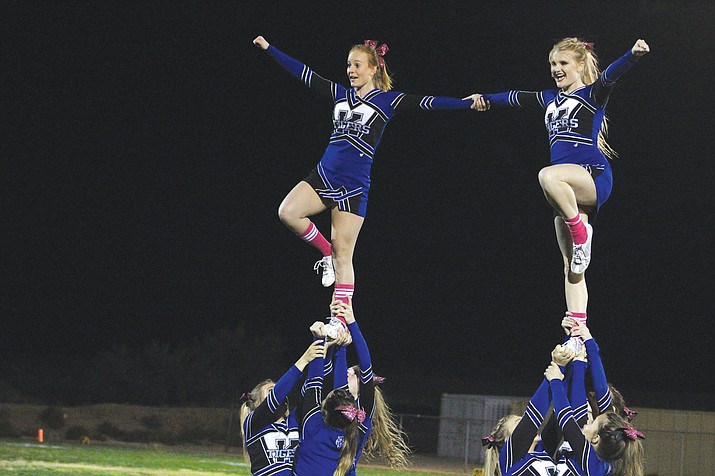 Photo by Beau Bearden.
Originally Published: October 29, 2017 6 a.m.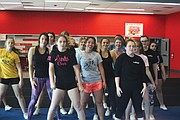 They tumble, they fly and they do it all with smiles on their faces. But behind the big bows and sparkly pompoms of the sport, another truth emerges: Cheerleading is dangerous, too.
"Like any sport, cheerleading is incredibly physically challenging, and therefore involves some inherit risk," said Kingman Academy cheer coach Andy Ballstaedt. "While we can't control every factor in every moment, safety is our top priority. To minimize risk, we teach the cheerleaders successive skills and do not progress to more complicated ones until the basics have been mastered."
The sport was responsible for 65 percent of direct catastrophic injuries to female high school athletes during a 27-year period, according to a 2012 study by the American Academy of Pediatrics. It supported a 2009 report from the National Center for Catastrophic Sports Injury Research at the University of North Carolina that concluded cheerleading accounted for 65.2 percent of all catastrophic injuries in youth sports.
However, Ballstaedt did mention other research shows that safety in the sport has steadily improved in recent years and the latest study states cheerleading has the fourth-lowest rate of injuries out of 22 high school sports.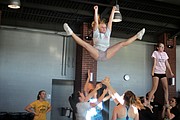 Kingman High School cheer coach Denise Andrade furthers that case locally, as she said injury statistics are always much lower because the study numbers come from teams of higher status and with higher skill levels.
Nevertheless, Andrade strives to make sure there aren't any injuries to the Lady Bulldogs.
"One of the most basic preventative measures is to do a proper warm up and stretch prior to any vigorous activity," she said. "Aside from that, I have taken the time to train my girls in proper skills techniques for activities. I make my girls slow down, actually listen, and observe the proper way to perform new, different, or advanced skills. Proper training and use of technique is probably one of the best ways to prevent injuries."
While that may be the case, Phoenix orthopedic surgeon Douglas Hartzler has treated numerous cheerleaders for injuries during his 31 years of practice.
"I would agree that cheerleading on a percentage basis, meaning that the number of participants that do cheerleading versus the number of injuries that are sustained, probably has a higher frequency than most sporting activities," Hartzler said.
Part of the reason so many cheerleaders sustain serious injuries is because of what is required, Hartzler said. They do gymnastics skills on hard surfaces and rely on other people for safety, which can sometimes be unreliable.
"The most common are the shoulder, elbow, ankle, and foot, and occasionally the knee, as well," he said. "Most of it involves tumbling. Tumbling involves the upper extremities … the shoulder, the elbow, and also the foot and ankle takes a pounding."
Lee Williams High School junior Lilly Rapp knows all too well how dangerous tumbling is as she has suffered a few injuries, including a stress fracture in her wrist. However, that injury came during her time doing competitive cheer and not with the Lady Vols.
"I've only hurt my knee in high school," Rapp said. "But there's a difference between being hurt and injured.
Lee Williams senior Cali Moon couldn't recall a time where she was injured during cheerleading.
"I only do what I'm comfortable with," she said. "We obviously have really good coaches who will help us a lot. If you know you have good skill, then you won't get hurt."
Lee Williams cheer coaches Mindy Walker and Jenifer Rapp don't require every cheerleader to tumble and that helps avoid serious injuries.
"You know the strengths and weaknesses of your team, so you aren't going to have them do crazy stunts that they're not physically capable of doing just to look better or to just wow the crowd," Rapp said. "The injury is not worth it for that one second of 'wow, they look so cool. – Oh no, my daughter has a broken ankle.' It's just not worth it."
Guidelines have been in place for high school cheer in order to try to combat injuries, yet none of these safety measures can completely eliminate the risk. However, Lee Williams' Madison Cathey and Avery Moon brought up the fact that every sport has dangers associated with it. So it's up to cheerleaders to make sure they are well-educated in order to prevent injuries from happening.
"No matter what, if you're going into a sport you know there's a chance of injury," Moon said. "But if you do what you're taught and you do it how you should, then you're probably not going to get hurt."
More like this story