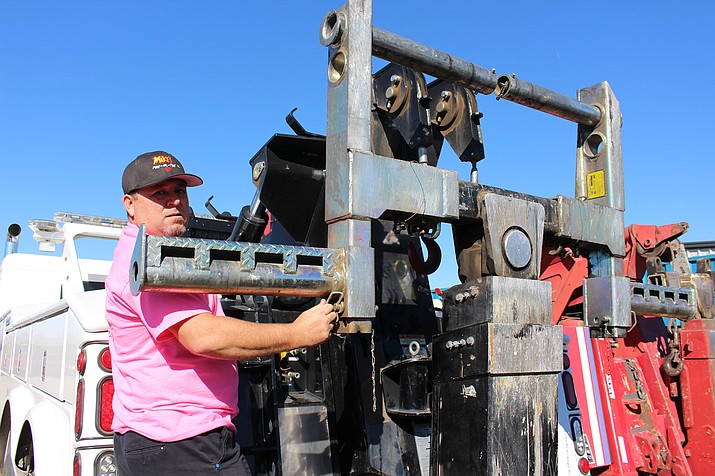 Photo by Hubble Ray Smith.
Originally Published: October 30, 2017 6 a.m.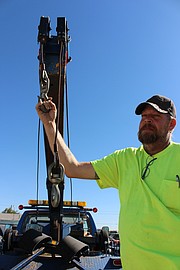 Shawn Michaels knows about the Phoenix tow truck driver who was recently shot dead trying to take a vehicle from an apartment complex.
That's why the owner of All American Towing in Kingman carries a piece. He's run into a few confrontational situations during his seven years in business.
Like a couple years ago when he was called by police to tow an unregistered vehicle belonging to a guy who was violating a restraining order by being on his ex-girlfriend's property in north Kingman.
The guy threw a full can of beer at him.
"He tried to assault me and got arrested and tased six times and shackled from head to toe," Michaels said at his yard at 4435 Bank St. "He was on something, had to be."
It's not like being a cop, but driving a tow truck is one of the more dangerous jobs for various reasons.
In general, driving a truck is the most hazardous occupation in the United States, with 852 drivers killed on the job last year, according to the U.S. Department of Labor. Highway accidents were the leading cause of deaths of workers in all lines of work.
About 55 to 60 tow truck drivers are killed each year, mostly by reckless motorists.
It's a daily concern, Michaels said.
"When you're out there and they're buzzing by you at 75 mph and they're not moving over like they're required to, your ass would pucker too," he said.
Mike Simpson, owner of Mike's Towing since 1988, said the situation has worsened over the last few years in Arizona where quite a few tow truck drivers have been killed.
"The job in this day and age is very dangerous, especially on the roads and freeways," he said. "They don't slow down or move over. It's getting to where people just don't respect the lights."
Simpson recalls a rollover accident on Interstate 40, a few miles east of Kingman, when three or four law enforcement vehicles were parked behind him while he worked on the wreck, which partially blocked the lane. Orange cones were set up on the highway.
"And this semi-truck came through and never slowed down, knocked down all the cones, ripped the mirror off a patrol car," Simpson said. "You can imagine that one will stick out forever."
On that occasion, highway patrol chased down the truck driver, but all too often, motorists blow by a caution scene with little regard for safety or the law, Michaels said. Maybe they're in a hurry to get to Las Vegas.
"I don't know if it's because we run amber lights and everyone else is red and blue. They move over for police and ambulance, but we're the red-headed stepchild, and it's not right," he said.
Michaels said he refuses to be a statistic. When he received his tow truck license, he asked an officer with Arizona Department of Public Service if he was allowed to carry a concealed weapon.
"He said, 'I would.' You never know who you're dealing with in the middle of the night," Michaels said.
Even when they're helping stranded motorists on the highway, tow truck drivers place their lives in danger. That's kind of the "double-edged sword" of the industry, Michaels described.
"People drink and drive and get pulled over and get a DUI and they're upset at us, like it's our fault. 'You took my car.' Well, I'm not the one drinking and driving, or no license," he said.
"The flipside is we're out at 3 a.m. changing tires because they don't know how or the spare is flat or they're out of fuel. People are grateful when we come out and help."
Simpson said he took an interest in driving tow trucks at an early age, remembering one of his friend's father owned a tow truck company.
Drivers watch training videos on how to be aware of the situation and environment, and they wear reflective vests on the road, but there's not much else Simpson can do to protect them.
Well, he doesn't do vehicle repossessions, unless it's voluntary.
"It's too dangerous," Simpson said. "We want to work for stranded people and law enforcement. As far picking up repos, no. We had a gun pulled on us in 2002 and I decided it wasn't worth it. We don't need that extra part of the business."
He'll only respond to calls if law enforcement is present, like a car that's abandoned on the freeway or illegally parked.
Overall, Simpson said driving a tow truck has been a rewarding career.
"There's a reason behind all this," he said. "People love us when they're stranded at midnight, but when their car is towed because they left it on the parade route, then we're bad people."