Originally Published: September 1, 2017 5:58 a.m.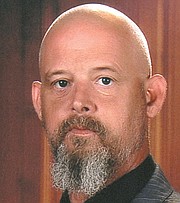 KINGMAN – Veterans at Sea, a nonprofit veteran organization based out of Kingman, will be sending members, including CEO Charles Black, to the Houston area Monday to team up with rescue operations being supported by Daniel Alarik, the CEO of Grunt Style, a U.S. veteran-run clothing company.
"We will not only be delivering much needed supplies to maintain rescue operations, but will also be directly providing support to local search and rescue teams conducting recovery operations," Black said.  
They're taking as many supplies as they possibly can to help with the rescue efforts. Current items needed for rescue efforts include a 16-foot trailer for hauling supplies (they have a small trailer, but Black said bigger is always better), a fuel can with diesel fuel (diesel fuel for the rescue boats is running short), fuel cards or prepaid Visa gift cards for fuel purchases, cases of bottled water (food and clean water supplies are also running low), non-perishable canned food, blankets, flashlights and batteries, bug spray, lip balm and hand sanitizer.
You can track their progress at https://www.facebook.com/danielalarikofficial/, Alarik's Facebook page.
Black is funding the trip out of his own pocket and plans to stay at least two weeks, longer if needed. Monetary donations to support this mission can be sent to Veterans at Sea, P.O. Box 3572, Kingman, AZ 86402.
If you would like to donate and support the ongoing rescue operations directly, contact Veterans at Sea at 928-985-0827 or Black at 502-298-3525.
More like this story