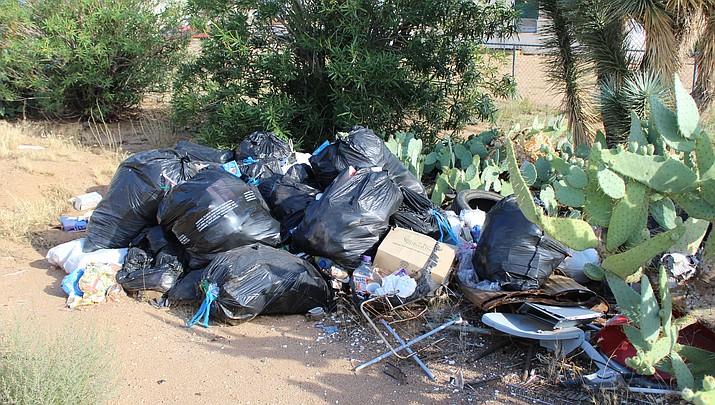 Photo by Shawn Byrne.
Originally Published: September 1, 2017 5:57 a.m.
Everyone is aware of the Butler Blight of condemnable housing and unbelievably trash-hoarding yards. We've all seen it, but how many have noticed that the Blight is slowly moving into other areas around town including inside the city limits? I am slowly being surrounded by this and I live in the southeastern part of town!
Outside city limits we really don't have a say, I guess. But inside the city limits? The keeping of unusable or unwanted stuff just for stuff's sake is a mental problem. It's left out in the weather, rained and snowed on and can't be used again. Why do this?
These yards, front and back, are also called habitat. I've never seen a rattler here, but you can bet it will start with these yards on both sides. Breeding places for other insects and pests which this kind of hoarding creates with standing water caught in upturned containers of all kinds.
Referring to a Rant in the Aug. 20 paper. They spoke of trashy yards in Missouri and the penalty for it. "One warning visit; if owner doesn't comply – the process begins of condemning the property, confiscation (I'd suggest eviction and a match – why should the city be responsible for clearing off these properties?). Or, an auction on the courthouse steps."
Mayor, this is how you do it.
I have talked to the local police by going to the "Coffee with Cops", which is a wonderful way to actually see a policeman where you can chat one-on-one and ask questions. He said to call their office and put in a complaint and they will send people out to talk with them. They will continue to check back until they comply with the existing law of trash inside the city limits.
But again, this brings up: Really? Why the Butler sprawl?
It's up to the city and the police to control. The city isn't mentally capable of decisions on how without hiring someone on the outside to tell them how. The police are too short-handed to cover all they have to already.
Trash on a priority list? No, of course not.
B. Kitty Stimson
Kingman