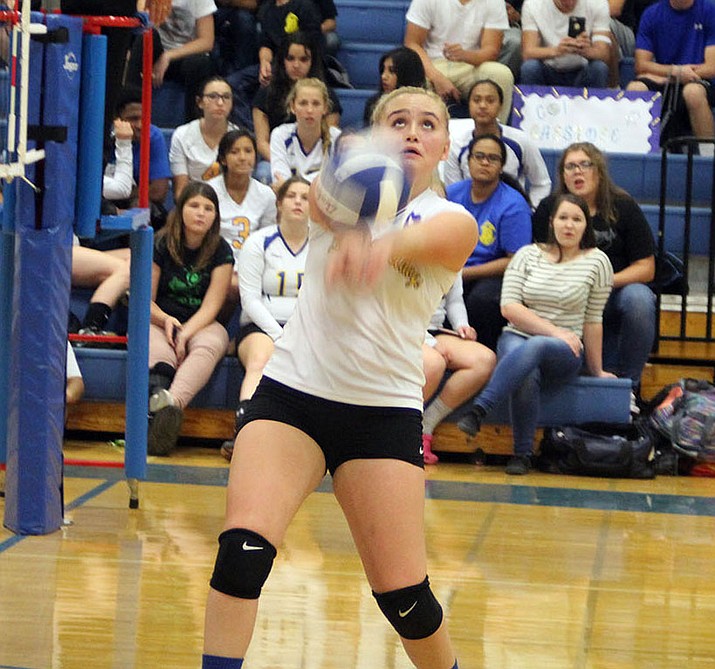 Photo by Beau Bearden.
Originally Published: September 2, 2017 3:55 p.m.
KINGMAN – The Kingman High School volleyball team played Parker Thursday for its second match in as many days and fell 3-0, (25-11, 25-8, 25-15)
"The girls did a good job keeping their same energy stepping on the court two days in a row," said Lady Bulldogs head coach Molly Creagh. "But it didn't give us quite the amount of time I would've liked to go over film and correct our small movement errors."
Courtney Mossor led Kingman with 23 assists and 11 kills, while Felicia Fragassi finished with 18 digs and Morgan Stephens added five blocks.
"I started some new varsity members so that they could start gaining some experience," Creagh said. "That always seems to change the court dynamic, but I think it is important that the girls learn the pace of varsity play."
Even with the variety of different players, the Lady Bulldogs still made strides as a team.
"I saw a lot of improvement in their communication," Creagh said. "They made a lot more blocking and hitting attempts at the net compared to Lake Havasu because of that extra talk making for some very exciting rallies."
Kingman (0-2) returns to the court Tuesday for a 6 p.m. contest vs. Mohave.
"Now that I have been able to try some different starting combinations we had a better idea of who works well together," Creagh said. "That will make our defense much stronger as we play Mohave's heavy hitters."