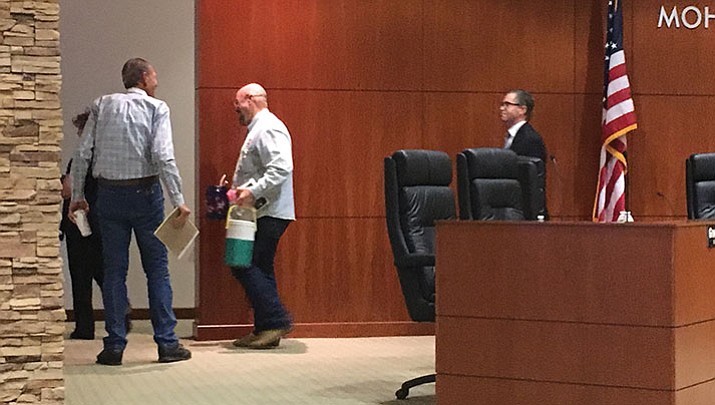 Photo by Hubble Ray Smith.
Originally Published: September 3, 2017 5:59 a.m.
KINGMAN – Claims have been raised that the Mohave County Board of Supervisors broke open meeting laws by holding interviews for the vacated District 5 seat behind closed doors in executive session.
The county's attorney, Ryan Esplin believes otherwise.
"I think it was not a violation," Esplin said.
Esplin bases his belief that state statute 38-431.03 stipulates that "Upon a public majority vote of the members constituting a quorum, a public body may hold an executive session but only for the following purposes (of) discussion or consideration of employment, assignment (or) appointment … of a public officer, appointee or employee of any public body."
"Appointment is right there and this is an appointee to a public body," Esplin said. "Clearly, 341.03 says that we can discuss assignment of an appointee in executive session. This is as obvious as the sun."
Esplin agrees when legislation contains the word "may" it can lend itself to interpretation.
"The law is discretionary," Esplin said. "Everything they can do in executive session is 'may.' If they want to talk about legal issues they can talk about it in open session if they want to … if they wanted to conduct the interviews in open session they absolutely could have. It was their choice."
Board President Gary Watson said the call to hold the candidate interviews behind closed doors was to afford the candidates a calm setting.
"How would you like to be interviewed for a job in front of 50 or 60 or 100 people and 25 feet away from the people asking the questions," Watson said. "The idea was that the applicants would feel comfortable in a closed session."
Regardless of the reason, Esplin stands firm that his counsel to the board was correct.
"When you practice law, things are subject to interpretation," Esplin said. "I've researched this issue, and I stand firmly by it that appointment and appointees fall under the state statute. Can somebody else have a difference of opinion, absolutely, but this is the way I read it and I'm going with it."
Despite believing the board is on solid legal footing, concerns have been raised that the county is taking a somewhat similar track to Lake Havasu City that found itself in trouble with the Arizona Attorney General's Office a few years ago.
At that time, the council went into executive session for legal advice before coming out and conducting a blind vote. The council put the names of perspective nominees on slips of paper, put them in a hat, which were then pulled out randomly and read in open session.
This was deemed unlawful and the city was sanctioned with one hour of open meeting training.
Although the majority of the board agreed to go into executive session Monday, Supervisor Buster Johnson expressed concerns.
"This really should have been in public," he said Thursday. "That way people could have made up their own mind on who would be the best person to be appointed. They also could have heard what questions were asked. The more open you are the better off you are."
Johnson disagrees that the interviews qualify for executive session saying that it's impossible to bind someone who is not a member of the county to the closed session's confidentiality.
"This wasn't a legal issue and it wasn't an employee who works for the county issue as well," Johnson said. "If you talk about openness, something we do all the time, we really sandbagged the public on this one."
More like this story