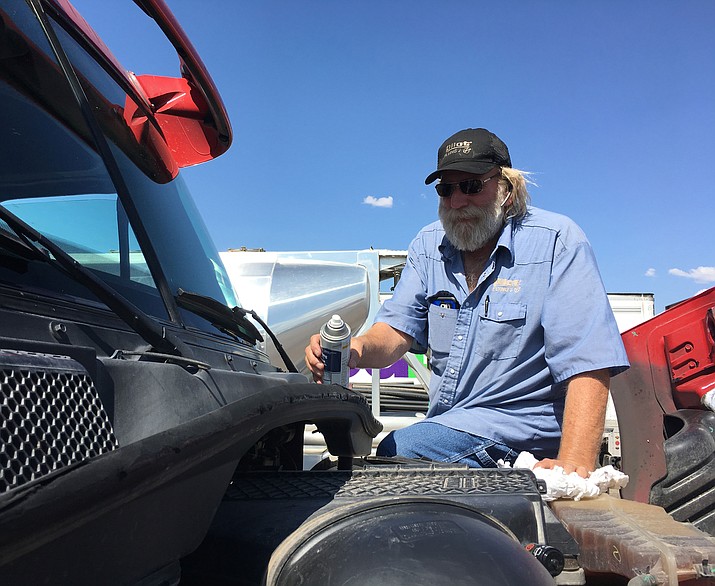 Photo by Hubble Ray Smith.
Originally Published: September 4, 2017 5:59 a.m.
KINGMAN – There'll be no Labor Day barbecue or family picnic for Frank Hunter, and he won't be going to any parades or blow-out sales.
Labor Day means just what it says.
"I have to labor," said Hunter, a fuel tanker driver for Pilot Flying J truck stop at Interstate 40 and Route 66. "It means I have to work."
Flying J drivers are on call seven days a week, 24 hours a day, he said.
Anyone who gets up every day and punches a time clock or works a 10-hour shift on salary can appreciate the one holiday dedicated to working stiffs, all the folks who feel they're overworked and underpaid.
Labor Day, celebrated on the first Monday in September, is rooted in the union labor movement of the late 19th century and was established as a federal holiday in 1894.
It's a day to recognize social and economic achievements of American workers and their efforts to make the country strong, prosperous and healthy.
While the early labor movement created political unrest and protests, Labor Day has lost some of its meaning. Today it's about the end of summer vacation, barbecues and back-to-school sales.
In the 1880s, Labor Day in many U.S. cities was more like a union strike with workers waving the red flag of socialism and speakers criticizing capitalism than it was a day off with pay.
"We thought Labor Day was a holiday for laborers to get off. I guess I'm in the wrong business," truck driver Hunter said. "This ain't bad. We work a lot."
Ashley Apuzzo, general manager of Red Roof Inn, will be checking guests into their rooms on Labor Day, just like any other day.
"It's another day in the year," she said Friday. "It feels like any other day."
Personally, Apuzzo said she doesn't care about the union history behind Labor Day.
"If you work hard, you work hard. You can only expect to make as much as how hard you work, and honestly, you have to earn extra pay," said Apuzzo, who worked her way from housekeeping to management.
Doug Angle, president of Angle Homes in Kingman, would like to know what happened to the great American work ethic.
"It's a little hard to get labor," he said. "People don't want to work. My subcontractors are having trouble staffing their crews. It's a challenge right now to get houses built in a timely manner."
Part of the reason Labor Day has lost its meaning today is the decline of union membership and power.
The percentage of workers in 2016 who are members of a union is 10.7 percent, down from 11.1 percent in 2015, according to the Bureau of Labor Statistics. Today, 14.6 million wage and salary workers belong to a union, a loss of 240,000 workers from a year ago.
Angle is not a big fan of union labor, and never belonged to a union, picking up the trade from his dad. He doesn't know much about unions, except that they drive up the cost of building and cut into workers' pay.
"I guess it's people celebrating people's right to work," Angle said about Labor Day. "We recognize we're all workers and we can work where we want. We're not in a communist country where they tell you to be a ditch digger or dishwasher."
Still, it was union organizers who were able to reduce the work week for factory workers from 70 hours in the 1830s to 60 hours by 1890, and to win eight-hour shifts for workers with days off such as Labor Day.