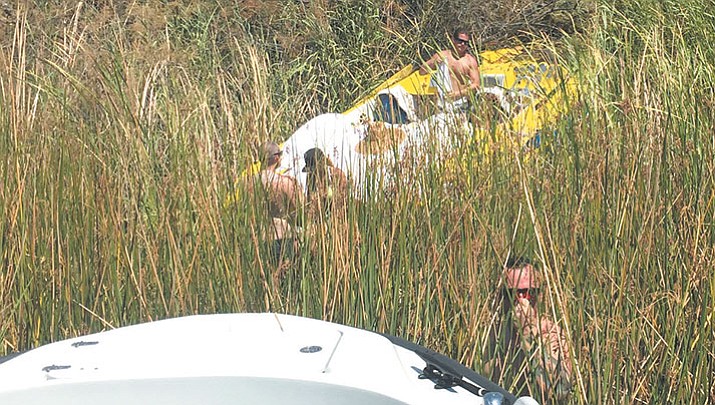 Originally Published: September 6, 2017 5:55 a.m.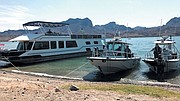 KINGMAN – Lake Havasu and Colorado River Labor Day weekend incident statistics are in.
According to Mohave County Sheriff Deputy Sgt. Kyler Cox, Labor Day weekend was busy with boaters on Lake Havasu and the Colorado River, but he was pleased to report no major incidents. Several boaters were stopped for miscellaneous violations on the water, but were educated by deputies who continually preach safety as a top priority.  
Five Operating Under the Influence (OUI) arrests were made this weekend.
Deputies responded to a medical call at Three Dunes Cove where a 28-year-old Burbank, California man dove head-first into water from the top of a rented houseboat. 
The man entered the 4-foot-deep water, striking his head and face on the lake bottom. He suffered cuts and scrapes to his face and head and was up and walking around when deputies arrived. He was transported to Havasu Regional Medical Center. Alcohol was a factor.  
Deputies investigated two non-injury boat crashes. One involved a personal watercraft that struck the shore near Steamboat Cove. The other involved a twin motor 28-foot Eliminator powerboat that had a mechanical failure and ran ashore in the river near Mohave Rock. The boat was reportedly traveling 80 mph when the right motor failed, causing the boat to veer right and crash into the Arizona-side shoreline. 
A man was charged with trespassing after deputies noticed him getting ready to jump in the Colorado River from the BNSF railway bridge parallel to Interstate 40 in Topock.  The man reportedly told deputies he was planning to jump when Sgt. Cox told him not only was the bridge posted as 'No Trespassing,' but was extremely unsafe to jump from, or to be on, the bridge.
At about 8 a.m. Saturday, deputies responded to a near drowning at Davis Camp north of Bullhead City. Alberto Perez, 46, of Riverside, California told deputies he was swimming in the Colorado River off the Davis Camp Beach when the current pulled him to the middle of the river. He was pulled from the water unconscious by Good Samaritans who performed CPR until medical personnel from the Bullhead City Fire Department arrived and transported him to the hospital. He woke up in the hospital and didn't suffer any serious effects from the incident.  He told deputies he was not a strong swimmer and wasn't wearing a life jacket.
Noel Loffer, 35, of Sun City, California, was charged with three counts of felony aggravated OUI with children under the age of 15 on board. 
At about 4:50 p.m. Saturday, MCSO Waterways Deputies witnessed a boat making a large wake in the No Wake Zone of Thompson Bay. Deputies talked to Loffer, who reportedly admitted drinking seven beers and a shot of liquor. 
He was arrested and submitted to a test of his blood alcohol concentration which was nearly .13 percent. During the stop, deputies determined there were three children on the boat, all under 11 years of age.