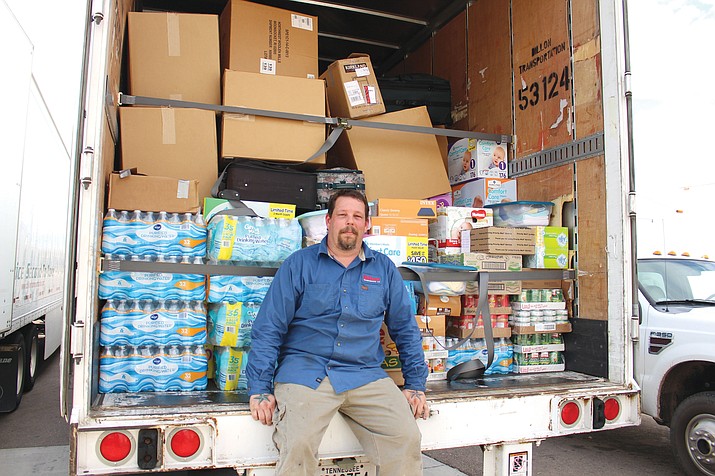 Photo by Hubble Ray Smith.
Originally Published: September 7, 2017 6 a.m.
Tim Lamoreaux had one 53-foot truck trailer packed to maximum weight Tuesday and another waiting for three pallets of water that would put it close to the limit before sealing the doors and heading to Houston first thing Wednesday morning.
Lamoreaux, maintenance manager for Dillon Transportation at Kingman Airport and Industrial Park, spearheaded local relief efforts in the first few days after Hurricane Harvey slammed the Gulf Coast of Texas and Louisiana on Aug. 25.
Donations came pouring into Dillon's transportation hub in Kingman shortly after Lamoreaux posted his request on Facebook, with Cascades Tissues providing 15,000 pounds of toilet paper, paper towels and other paper products.
The first trailer was filled in less than 24 hours, and Lamoreaux went to work on getting a second trailer to send to Houston.
Texmo Oil Co. paid for the fuel, which is about $400 to $450 each way, and Dillon driver Bruce Bellare volunteered to make the 1,300-mile trip on his own time. It'll take about 20 hours, with a mandated rest period after 12 hours of driving.
The trucks are destined for Patton Village, Texas, a town north of Houston with a population of 1,500. They're bringing suitcases packed with new clothes, boxes of blankets, pillows and sheets, air mattresses and pumps, soap and toiletries, and nonperishable food items.
"There's five guys and us loading," Lamoreaux said Tuesday. "It's been an insane day. We started at 6 this morning. The only thing we're short on is horse feed. We didn't find out until yesterday."
The Kingman manager piggy-backed on Dillon's emergency response to Harvey from company headquarters in Ashland City, Tennessee. They worked with Red Cross and FEMA in selecting the area for delivery.

"Patton Village was low on the priority list. We'll be there before FEMA and Red Cross, probably," Lamoreaux said.
"Some of these families have literally lost everything and I can only imagine the pain that comes with that. My hope is that we can bring some sort of comfort and normalcy to as many families as possible."
According to the Harris County (Texas) Flood District, about 419 billion gallons of water have fallen on the area. Emergency crews have conducted more than 3,400 water rescues, and at least 44 deaths have been attributed to Harvey.
The storm demolished homes, turned roads into rivers and knocked out power for hundreds of thousands of people.
Rebecca and Alex Martinez, owners of Hard Ride Transport in Kingman, are also sending a truck and trailer of supplies to Houston. The truck will be at the Texaco in Mohave Valley on Friday and at Uptown Drug, 2820 Andy Devine Ave., from 10 a.m. to 4 p.m. Saturday and Sunday.
"We just saw what was going on and one of our drivers (Jeremy Banks) mentioned taking a load down," Rebecca Martinez said. "We're excited. We hope to fill the trailer by Sunday evening and he'll be on the way Monday morning."
Martinez said she got together with the owners of Uptown Drug to spread the word around town about the relief effort and recruited football players from both Lee Williams and Kingman high schools to load the truck as donations arrive.
"They definitely need all the help they can get," she said of Hurricane Harvey victims.
American Red Cross of Northern Arizona sent about 20 volunteers from Mohave and Yavapai counties to the distressed area in the first week, and more are expected to go there in the next few weeks.
"This is going to be a long recovery," said Vern Marschall, Red Cross volunteer coordinator in Kingman. "We're talking several months of sending people to help them recover."
Catholic Charities started taking action efforts even before Harvey hit land, launching a text donation campaign that raised $2 million. Other help has come from the Salvation Army, Samaritan's Purse, various food banks and relief funds.
Kingman truck drivers Shane Isbell and Tracy Langley did their part by delivering dog and cat food and pet supplies to the Houston area last week and bringing back rescued animals. They make a weekly haul from Phoenix to Dallas and decided to go the extra 240 miles.
More like this story