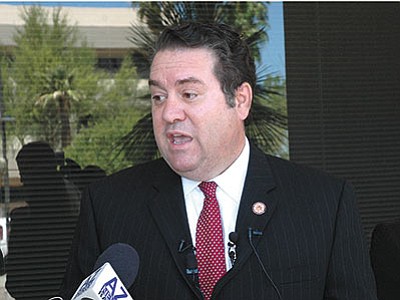 Originally Published: September 10, 2017 7:50 a.m.
PHOENIX – The state's top prosecutor is charging that the Board of Regents is ignoring a constitutional requirement that tuition for Arizona residents be "as nearly free as possible."
In a 20-page complaint filed Friday in Maricopa County Superior Court, Attorney General Mark Brnovich said board members have "dramatically and unconstitutionally" increased the cost of going to one of the state's three universities by anywhere from 315 percent to 370 percent since the 2002 school year. On an annualized basis, he said, that computes out to 14.1 percent, "the third fastest rate of growth among all 50 states."
Brnovich acknowledged some of that is likely due to lawmakers sharply decreasing the dollars supplied for higher education. In fact, legislative budget analysts have found that since 2008 alone state aid went from $9,648 per student to $4,098, even before the effects of inflation are considered.
But Brnovich said all that is legally irrelevant.
He reads the Arizona Constitution to require the regents to base tuition for Arizona residents on what it actually costs to educate them above whatever aid comes from taxpayers.
Instead, Brnovich contends, the board has been using other improper factors, ranging from what other state universities charge to the availability of financial aid. He said the board is "essentially concluding that if students can borrow enough money, ABOR is cleared to charge it."
And Brnovich said the amount of money the universities have raised through higher tuition is greater than the reduction in state tax dollars.
The lawsuit finds other flaws in how much students are forced to pay.
For example, Brnovich said the charges imposed on students who attend on a part-time basis or take classes online is "significantly more than actual cost." On top of that, he said, the regents require students to pay for unrelated things, like fees for athletics, recreation, technology and health, just to get the education they want.
Separately, Brnovich is challenging the board's decision to allow those in the Deferred Action for Childhood Arrivals program to pay in-state tuition.
More like this story