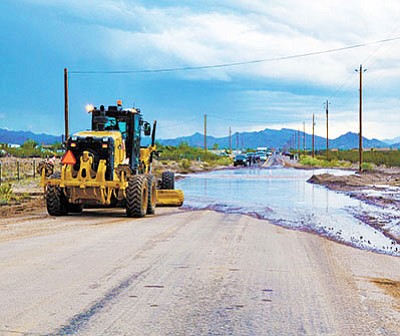 Photo by Butch Meriwether.
Originally Published: September 11, 2017 5:57 a.m.
KINGMAN – Mohave County Public Works has announced the following road work for the week of Sept. 11:
In Lake Mohave Ranchos, the blade will be active from 21st Street north to 23rd Street.
In Golden Valley, the blade will be active on Redwall Drive from Aztec Road west to Verde Road; Walnut Creek Estates from Oatman Highway north to Apache Road; Shinarump Road from Laguna Road to Aztec Road; Colorado Road to Teddy Roosevelt Road from Chino Road to Agua Fria Road; and Hermit Road from Glen Canyon Road east to Highway 93.
The blade will be active on Hackberry Road.
In Valle Vista, it's roadside vegetation mitigation.
Sweeping will be performed in the Fort Mohave area.
In the Hualapai Mountain Road area, crews will be blading Blake Ranch road.
Crews will be patching local roads and performing storm cleanup where necessary in Golden Valley, Meadview and Dolan Springs.
In the Wikieup area, the blade will be finishing Upper Trout Creek.
In Yucca, the blade will be active on Juniper, Roy Rodgers and Alamo at the end of pavement working south.
In Mohave Valley, crews will be trimming trees and sweeping.
The county's first priority, especially during monsoon season, is public safety. Storm repairs to county-maintained roads will be prioritized accordingly, and the work will be done as time allows.