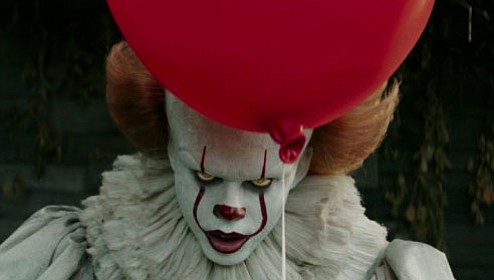 Originally Published: September 11, 2017 6 a.m.
Watching the latest version of "It" brought back memories of watching the original and of reading the extra long book. The story is pretty much the same with few deviations in story line.
All new this time is the early introduction of Pennywise the Clown, played by Bill Skarsgard, who looks more real and more frightening than the earlier version. Better computer-graphics, make-up, lighting and staging brings Pennywise up close and personal.
For the first time the audience is given an explanation to the tag line "We all float down here." It's late in the movie but explains a whole lot. It's still a story of a small town where kids disappear, only after a certain amount of years have passed. A small group of kids, the Loser's Club, notice a pattern of when the kids go missing and band together to investigate. Each kid is visited by the terrible Pennywise. But only they can see him. And only they can see the remnants of his tricks.
During Beverly's, played by Sophia Lillis, bathroom scene the entire bathroom is covered in blood but only the Loser's Club can see the blood. Her father enters the bathroom and doesn't see the blood. While washing the bathroom, the Loser's Club are terrorized individually by Pennywise. Although no one else is aware of Pennywise, the Loser's Club bands together to hunt it down.
How the Loser's Club searches through sewers and tunnels will make you laugh. There are lots of excited retorts that had me laughing. The group of kids work well together and are very convincing regardless of their young ages. The group is believable; the audience can identify with them. And each has their own fears and motivations: Bill, played by Jaeden Lieberher, wants to find his brother.
The rest of the group seems to want to support the other members. They have no plan to actually kill Pennywise. But as they search through the tunnels they discover Pennywise's home. This is where they discover the meaning of the tag line. Pennywise appears first as Bill's brother, then transforms to Pennywise. He begins to attack and the Loser's Club takes action protecting each other and attacking Pennywise.
I won't be spoiling anything by telling you they all emerge alive and well afterwards. They promise to come back should Pennywise appear again. Which of course sets the foundation for at least another sequel. The movie lasted two hours and fifteen minutes and I'll admit I got a little antsy right around the 90-minute mark. It is rated R for graphic violence and language so it may not be appropriate for the little ones. Hold on to your popcorn though because there were times where I almost spilled it all over the new seats.
I'll give "It" four out of five Miners.