Originally Published: September 12, 2017 6 a.m.
KINGMAN – You can't ride the elephants at this year's 71st annual Mohave County Fair, but there's always the Ferris wheel for the meek and the Freak Out for bold.
The fair runs Thursday through Sunday at Mohave County Fairgrounds, from 10 a.m. to 10 p.m., closing early at 5 p.m. Sunday. Admission is $7 for adults, $4 for seniors, military and children and $3 for parking. Credit and debit cards will be accepted at the gate for the first time.
This year's theme is "Sew It, Grow It, Show It." Check out arts and crafts exhibits, quilting and crochet displays, 4-H competition, carnival and games, a variety of food vendors and great lineup of entertainment.
Here are five cool things to experience at Mohave County Fair: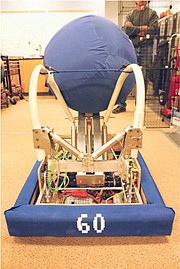 Robotics
Kingman FIRST Robotics Team 60 shows off their scientific intellect with a booth behind the main exhibit building, on the east side. The team was formed in 1996 and is comprised of students from Kingman High School, Lee Williams High School and Kingman Academy of Learning. FIRST (For Inspiration and Recognition of Science and Technology) introduces students to science, technology and math through building a robot, then entering the robot in regional and national competition. Team 60 took third place nationally in Atlanta in 2014. It's a sport for the mind.
Freak Out
This is the second year Brown's Amusements has brought the Freak Out to Mohave County Fair. It's manufactured by Netherlands-based KMG and there are only two or three operating on the West Coast, said Sherry Brown, owner of Brown's Amusements. "It just has a lot of action and everyone loves to ride it," she said, though she's not one of them. Riders sit in bottomless seats with their feet dangling below them. The claw begins to rotate and the pendulum swings back and forth. Don't eat your corn dog first.
4-H Auction This is one of the featured highlights that makes the Mohave County Fair a country affair. Some 250 youths from county high schools and 4-H chapters bring their cows, pigs, goats, sheep, rabbits, chickens and every other farm animal to the fair for judging. "Years of hard work for Mohave County children comes to a head in one night," fair manager James Guillot said. The judging starts Thursday and culminates with the 4-H and FFA Parade of Champions and Livestock Auction at 6 p.m. Saturday in the livestock arena. Take a stroll past the stalls, but watch where you're stepping.
Gourmet burgers
Top Notch Concessions, a new food vendor from Wichita, Kansas, specializes in deep-fried veggies and gourmet burgers. They were a big hit at the Arizona State Fair in Phoenix and Mid-State Fair in California. And their prices are reasonable, said Ramona Auld, who's in charge of the food court at the fair. Try their Frito Pie Chili Cheeseburger for $10. The veggie sampler is a mix of deep-fried onions, broccoli, mushrooms, zucchini and cauliflower for $8. Other favorites returning to the fair include Hog Heaven, Dippin' Dots, Ruthy's Taters and Siamese Kitchen.
Autograph
The rock band Autograph from Pasadena, California, headlines the fair entertainment at 8 p.m. Saturday at the main stage. They released several albums in the 1980s, and are best known for their 1984 hit single, "Turn Up the Radio." Other hits include "Send Her to Me" and "Blondes in Black Cars." Founding band members Steve Lynch (lead guitar, backup vocals) and Randy Rand (bass guitar, backup vocals) are joined by Simon Daniels (lead vocals, guitar) and Marc Wieland (drums). With a solid lineup, this band is poised to shake, rattle and roll. For a complete entertainment list, go to www.facebook.com/mohavecountyfairgrounds.