Photo by Aaron Ricca.

Originally Published: September 14, 2017 6 a.m.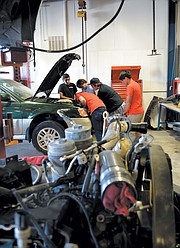 A few lucky Lee Williams High School students occasionally go to class covered in grease and oil.
That's because they're part of the school's automotive classes, one of 17 Career Technical Education and Western Arizona Vocational Education/ Joint Technical Education District classes at the Kingman Unified School District high schools. As with welding, nursing and fire science programs, the kids have the potential to a productive start in the adult world. If students pass the introduction, intermediate and advanced automotive semester-long phases, they can get ASE Certified, a must-have qualification for mechanics and technicians.
Former Ford technician Jason Peeler has been teaching at LWHS for two years and has had six recent grads go to work as mechanics at local dealerships. The thought of them finding work at Chrysler Arizona Proving Grounds in Yucca has crossed his mind.
"I know a few people that work out there," Peeler said. "They all seem to enjoy their job."
He has 68 students between the three classes this semester. Freshmen through seniors can enroll in the elective class. They'll learn everything from changing the oil to disassembling and reassembling an engine to full functionality.
"The students will spend a minimum of two days on every part we learn about," Peeler said.
The vehicles, along with some of the state of the art equipment such as tire balancers, hydraulic lifts, diagnostic machines and full sets of Snap-On Tools, were all purchased through WAVE/JTED funds. Before this semester, students only worked on gasoline engines, but Peeler knew the potential and need for diesel mechanics in Kingman and added it to his curriculum.
LWHS also has an Auto Shop Club that participates in CTE competitions in Phoenix. They occasionally hold fundraisers and do community service per KUSD club requirements. In addition to tooling around on the four school-purchased vehicles, for a monetary donation students hone their skills by working on student and teacher's cars as well as KUSD vehicles.
The garage doors were open for Tuesday morning's Intro to Automotive class and students were learning to remove and replace radiators in one of the high school's four guinea-pig vehicles. All of them seemed fully engaged.
"I've been working on some old cars with my dad at home," said junior Joseph Hultenschmidt. "I'd like to walk away (from the class) with enough skills to open up my own repair shop someday."
Junior Lilith Bennett said her mom convinced her to take auto shop.
"It's better to learn to do repairs myself," she said. "I want to know what I'm doing and not have to rely on someone else."
Bennett plans on taking all three levels of auto shop and especially enjoys not having to sit and thumb through textbooks as a start to her morning.

"I'll learn to fix mistakes on the school's cars before I mess up my own," she said.
The students aren't the only ones to gain from technical training.
"Without CTE classes, I wouldn't have graduated from high school," said CTE assistant Kristen Cunningham, who graduated from Milwaukie High School in Milwaukie, Oregon, long before CTE classes were part of KUSD's curriculum. Many CTE classes are considered college level and WAVE/JTED pays for college tuition and books for students who want to take MCC classes in the fields KUSD offers.
"The more we get kids involved in the high school CTE classes, the less they'll have to pay in college," Cunningham said.
Whether the teens are learning auto basics or want to be a NASCAR pit crew chief, the classes are a one-size-fits-all deal.
"We have kids who want to take the classes because they don't want to depend on someone else for auto work," Peeler said. "Some want to enter the automotive field. They're the kind of classes for everyone."