Originally Published: September 14, 2017 5:57 a.m.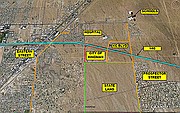 I have a question about Kingman Mayor Gates.
Was she in fact ousted from office once before? Kingmanites chose to elect her again?
My concern is with the 1-percent tax increase and Mayor Gates statement in a news article that "revenue generated from the 1-percent tax increase would go into the general fund, with half of it 'earmarked' for pavement preservation and half to unspecified capital improvements. However, Gates said that can be changed once the money is in the general fund."
So once again the roads suffer because, in the mayor's own words, once money is in the general fund it can be changed.
I am happy to see Mr. French retire. I only hope that new blood comes in for the betterment of Kingman.
Mayor Gates is not betterment.
Out with "the good old boys" and get some new blood who can make Kingman a clean, happy place where people can afford to live. Right now only retirees and government employees can afford to work and live in and around Kingman.
Nearly 85 percent of working people in Kingman cannot support themselves let alone a family. So for the Kingman Airport Authority not to have brought in business with sustainable wages is sad.
Goodbye Mr. French, and good riddance.
Barbara Sowan