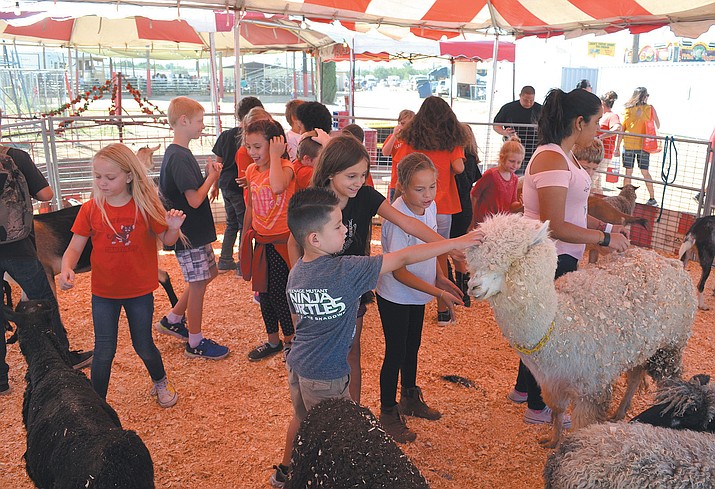 Photo by Aaron Ricca.

Originally Published: September 15, 2017 5:55 a.m.
KINGMAN – End of summer blustery winds didn't stop hundreds of kids and a Who's Who of Mohave County from putting the 2017 Mohave County Fair in motion Thursday morning.
Several city, county and state representatives started the festivities with a short, patriotic ceremony. Everyone stood for the national anthem and pledge of allegiance as the Kingman Young Marines presented the nation's colors.
Mayor Monica Gates, Mohave County Supervisor Jean Bishop, Arizona State Senator Sonny Borrelli, Arizona State Representative Regina Cobb, Bullhead City Mayor Tom Brady, CEOs from the Kingman, Lake Havasu and Bullhead City Chambers of Commerce and numerous military veterans were present for the opening day kickoff.
"On behalf of Kingman, welcome to the Mohave County Fair," Gates said as she welcomed attendees from throughout the county.
"We ordered up a nice fall day so everyone can enjoy the cooler temps," Bishop added.
Borrelli, a retired U.S. Marine, said the county fair might not be as majestic as a state fair.
"But this is our fair," he said. "It takes teamwork to make this come together."
With a small class of middle school students in the bleachers, Cobb addressed the audience.
"A lot of you traveled here from throughout the county," she said. "Stay the day. Enjoy it."
Community leaders, Kingman Young Marines and military vets gathered for a quick ribbon cutting ceremony and the show began.

It didn't take long for herds of school kids from all over the county, grades kindergarten through high school, along with their parents, teachers and other chaperones, to scatter throughout the exhibits, both inside and out.
Bullhead City's Mohave Accelerated Learning Center first-grade teacher Janet Baugh was guiding a group of her students through the 4-H animal exhibits.
"We bring them here every year. We start with the animals and then move inside to the art exhibits," she said. "Goats are always a big hit with the kids for some reason."
The kids took turns blurting out their favorite animals. Answers ranged from rabbits to horses.
"I like the bearded dragons," said 7-year-old MALC Patriot Nate Corona.
K12 Arizona Virtual Academy students ranging from fourth grade to high school were making their way along the goat pens taking selfies with the animals.
K12 site coordinator Graciela Castillo was wrangling the youngsters up for their foray to the next class of animals.
"This is only my second year at the fair and the school has been bringing the kids for at least 10," she said. "It just gets bigger every year."
The Mohave County Fair runs through Sunday. Fair hours today and Saturday are 10 a.m. to 10 p.m. and Sunday 10 a.m. to 5 p.m. Rides open Friday 4 – 11 p.m., Saturday noon to midnight and Sunday noon to 6 p.m.
Admission today and Saturday is $4 ages 4 - 11, $7 for 12-and-up and $4 for seniors 62-and-older, veterans and military. Sunday is $2 ages 4 – 11, $5 for 12-and-up and $2 for seniors 62-and-older, veterans and military. Admission is free for ages 3-and-under all three days.
Parking is $3 each day.
For more information on the fair, visit http://www.mcfafairgrounds.org/.