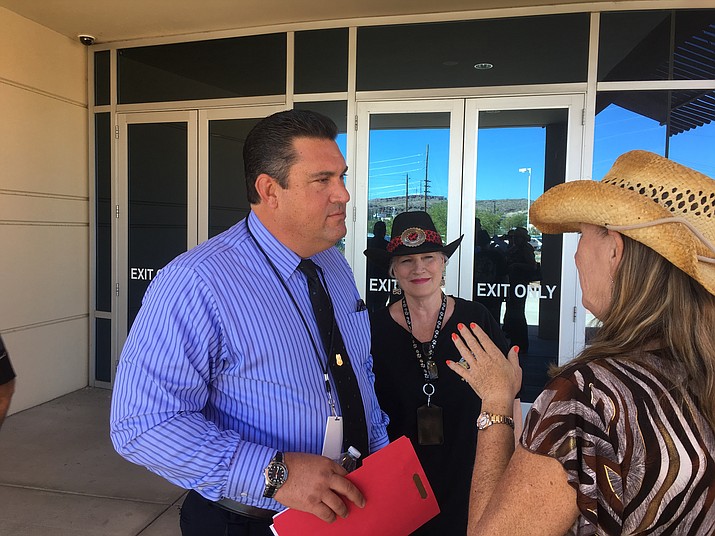 Photo by Hubble Ray Smith.
Originally Published: September 18, 2017 1:17 p.m.
KINGMAN – Sheriff's deputies will be getting their pay raise this year after the Mohave County Board of Supervisors voted 3-2 Monday to approve sweeping $500,000 from the landfill closure fund and using up to $1.2 million in salary savings from vacant positions to fund the sheriff's office.
Mohave County Sheriff Doug Schuster has been asking for more money to fix "compression" issues within his department, or differences in salaries between new recruits and tenured deputies.
He said it costs millions of dollars to train and equip new officers, only to have them leave for higher-paying jurisdictions after a few years.
Supervisor Hildy Angius brought the item before the board because she felt District 5 did not have proper representation in budget negotiations, as Steve Moss had been appointed to the Superior Court bench and was absent from discussions.
His replacement, Lois Wakimoto, voted in favor of the funding.
Arizona Legislature authorized Mohave County to sweep up to $1.8 million from tax districts and other funds, and Angius wants to grab it.
"It goes year to year," she said. "Our legislators have to fight for it. It's not a given. We may get it next year, we may not."
County Administrator Mike Hendrix told the board that sweeps coming from the $10 million landfill closure fund would be "least damaging" to the county budget. When a few people in the audience giggled at the $10 million figure, Hendrix explained that the funds have been collecting since the 1980s, and are required by the federal government for closing the landfill in 30 years.
Schuster said he needs $1.5 million to fix the salary compression, and he appealed to the board by noting how disappointed people were at the budget hearings after speaking overwhelmingly in support of the sheriff.
"People demand fast response time, and they want appropriate staffing level," he said.
The sheriff's department is down seven positions from 20 years ago, even though county population has doubled and calls have tripled.
Also, the county jail is down 37 positions, which poses safety and litigation concerns, he added.
Supervisor Jean Bishop voted against the funding, not because she didn't support the sheriff's department, but because she's against sweeping more funds. The board took $2.8 million from various tax districts and funds to balance the $89.8 million 2018 budget.
She was in agreement with Supervisor Buster Johnson, who said the county was already $2.8 million in the hole, and now it's adding half a million to that debt.