Photo by Aaron Ricca.

Originally Published: September 19, 2017 6 a.m.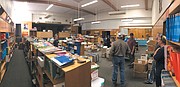 The pitter-patter of feet were once again trampling the grounds of Palo Christi Elementary School Thursday afternoon.
Thanks to the efforts of Kingman's Historical Preservation Committee and Kingman Unified School District, approximately 160 people from former teachers to curious millennials were allowed to roam the halls and visit the playgrounds, over the course of two hours, of the historic schoolhouse originally built in 1928 with additions throughout the years and officially closed as a school in 2013.

Barbara Charon, vice chair of the HPC and advocate of downtown revitalization, had the giddy enthusiasm of a teenager as she welcomed visitors at the front door and described the possibilities of using the building as a centralized city complex. Plans for the current complex would involve tearing it down and moving the offices to Palo Christi, which would allow for more downtown green space and possibly the addition of an amphitheater.
"People are energized. They're excited," Charon said. "They like the idea of a walkable downtown."
About 20 people had gathered by the front entrance at 4 p.m., some of them longtime Kingmanites and others newbies wanting to peer into local history.
"I haven't been in here since about 1996," said Rob Chilcoat, in his mid-50s. "I helped lay carpet in here."
KUSD maintenance manager Craig Schritter originally intended to only let people tour the main building, but as curiosity exploded more doors were open and folks scattered to the playgrounds.
Ideas for the school's future flowed inside and out. Visitors walked through the school's library of books still stacked on the shelves and even more boxed up on the floor. Inside one of the classrooms, the Snelling family, including former third-grade teacher, Barbara, were chatting with longtime downtown resident and former Palo Christi student George McCoy about how corporal punishment was the norm back in the day. Barbara's son, 45-year-old David, also a former Palo Christi student, was with his wife and 12-year-old daughter, Haydn. The girl's look of horror raised chuckles among the adults when they reminisced of paddles broken on the behinds of insubordinate children.

"You could get swatted back then?" Haydn asked.
"Oh yeah," David replied. "A lot of teachers had paddles hanging on the walls."
Meanwhile, two twin boys were climbing on the east side playground equipment and peering through the gate that led to the once captivating nature trail, a project spearheaded by the late fifth- and sixth-grade Palo Christi teacher and nature enthusiast Sharon Hackley. The idea that both could be used as a day-care playground and picnic spot got the energy flowing. Others were gazing at the nearby cliffs and commenting on the potential for trailheads.
A staple of Kingman history, Dorothy Brown, in her 80s, has been before city council on numerous occasions advocating for the renovation was palling around with other seniors and former teachers Sue Snell and Carolyn Johnston.
"I would love it to be a city complex," Brown said. "They could find a way to use the current complex as a park."
Snell and Johnston both felt that the school could use some repairs, but with a few requests.
"As long as they keep the original facade and the trees," insisted Snell.
"And they need to donate those old books," Johnston added. "They used to have to burn or bury the old ones, and no one wants to see that."
Almost everyone who showed up was deep rooted in the community or had some tie to the school. KUSD Superintendent Roger Jacks and other staff members, many who attended or taught at the school, wandered around the building. Councilwoman Jamie Scott Stehly watched her daughters run through the grass with her husband, David, whose father, Charles, helped Hackley build the nature trail. City Councilman Stuart Yocum, who has had a hand in pushing for the city takeover, was poking around empty classrooms.
Even those who haven't been in Kingman long were amazed.
"I'm blown away," said Paul Gaines, who moved to Kingman in 2007 and had never been in or around the school. "I had no idea how much room was back there for a city complex."
According to Charon, the city is looking at an estimated cost of $30 million whether they tear down and rebuild or add on to the original schoolhouse.
On Tuesday, City Council will hear statements from Jacks and Charon and consider whether to purchase the school and turn it into a complex. According to Arizona statute, the legalities of property transfer require a fee, which could be as low as $1.
"Everybody bring a penny," Charon said.
She's highly optimistic council will buy off.
"We need a grand city complex that demands respect," Charon said. "Let's make it happen."