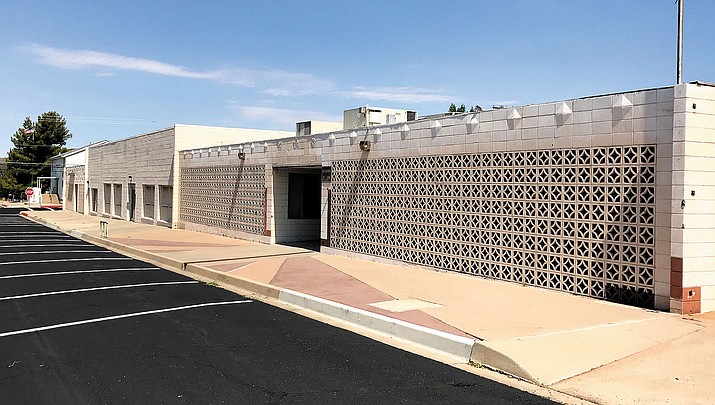 Photo by Aaron Ricca.
Originally Published: September 20, 2017 5:58 a.m.
KINGMAN – Renovation of Arnold Plaza got a boost Monday when the Mohave County Board of Supervisors accepted a Brownfields State Response Grant in the amount of $120,000 for asbestos and lead-based paint removal from the building at 313 Oak St.
Pat Farrell, president of Jerry Ambrose Veterans Council, said the Arnold Plaza project is not going to be a "flophouse" for veterans. It will help veterans transition from military to civilian life and keep them off the "government dole," he said.
He's already received a $42,000 grant to determine what needs to be done to Arnold Plaza, and the project is the No. 1 priority for the Arizona Department of Environmental Quality, Farrell added.
Supervisor Hildy Angius said it was going to cost about $500,000 to demolish the abandoned building, and she was glad to see it "repurposed" to help veterans.
The contract is between ADEQ and Mohave County. ADEQ will provide management for the Arnold Plaza project, including all procurement activities to identify and hire a contractor for the project.
ADEQ will also review and approve all documents for the abatement work and make sure it's performed in compliance with the Asbestos Hazard Emergency Response Act.
In other action from Monday's Board of Supervisors meeting:
• The board voted 5-0 to acknowledge a quarter-cent sales tax as source of funding for construction of a new Superior Courthouse at 401 E. Spring St. Public Works Department was directed to submit construction documents for building code and infrastructure review on or after May 1 anticipating a four-month review and approval process. The 66,000-square-foot addition is estimated to cost $19.9 million. County staff forecasts the quarter-cent sales tax to have $20.1 million in unencumbered monies for the construction at the time of the tax sunset on Dec. 31, 2019.
• The board voted 5-0 to direct staff on moving forward with the public auction of the former records management office at 802 E. Beale St. The item was tabled from Aug. 21 to get an appraisal of the property conducted by LS Appraisal Services of Lake Havasu City. The "as is" market value was determined to be $152,000.
• The board took no action on appointing someone to fill the vacant Colorado River Regional Sewer Coalition regional and state board position, and voted Jean Bishop to be liaison to the Legislative Policy Committee.