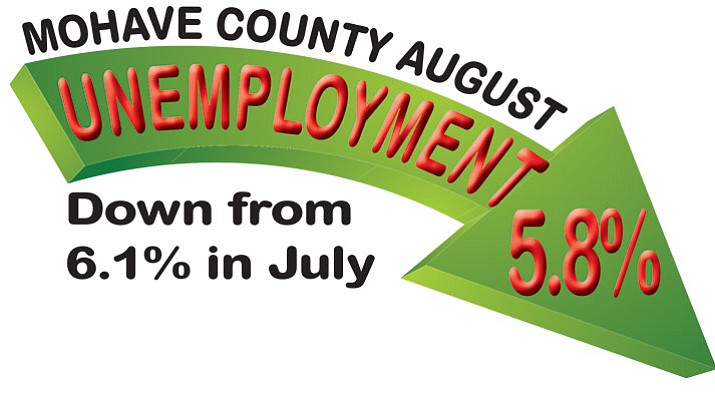 Originally Published: September 20, 2017 5:57 a.m.
KINGMAN – Mohave County showed marked improvement in its unemployment rate for August, dropping to 5.8 percent from 6.1 in July, according to the Office of Economic Opportunity monthly report.
The civilian labor force in the county, comprised of the Kingman and Lake Havasu City metropolitan statistical areas, was 82,600 in August, down by 500 from the previous month, which helps lower the rate.
Total nonfarm payroll employment rose to 49,100, up from 48,300 in July, with the private sector adding 200 jobs and government adding 600 jobs, all at the state and local level.
Mohave County gained 200 jobs in educational and health services, and 100 jobs in trade, transportation and utilities, according to the report. Professional and business services lost 100 jobs.
Arizona's seasonally adjusted unemployment rate also decreased in August to 5.0 percent, a drop of 0.1 percentage point.
The state gained 41,900 nonfarm jobs in August, a 1.6 percent increase from the previous month. This was less than the post-recessionary (2010-16) average gain of 50,400 jobs. The private sector gained 9,700 jobs, up 0.4 percent. Historically, the private sector averages employment gains of 16,200 jobs in August.
Eight of the eleven sectors posted gains, including government (32,200 jobs), education and health services (5,700 jobs) and professional and business services (3,800 jobs).
Losses were seen in other services (600 jobs), construction (600 jobs) and information (900 jobs).