Originally Published: September 22, 2017 6 a.m.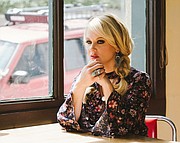 Country singer Shari Rowe made her debut at last year's Andy Devine Days rodeo, and she's back for an encore performance this year starting with the 100 Club VIP party to be held at 7 p.m. today at Mohave County Fairgrounds.
Tickets are $125, which includes dinner for two with drinks and four VIP rodeo tickets. They're available at the door or at www.kingmanrodeo.com.
Rowe said she made a lot of friends in Kingman and she's excited to play the rodeo for the second year. Maybe it'll be a regular thing.
"Everybody was so welcoming," Rowe said in a phone interview from her home in the Phoenix valley where she grew up. "It was such a blast, and some of the best food. The Kingsmen know how to do it right, Ray Cullison and that whole group."
She'll be singing the national anthem at both rodeo events Saturday (6 p.m.) and Sunday (1 p.m.), and leading a Cowboy Church worship service at 7:30 a.m. Sunday at the fairgrounds.
With her husband, Kevin, on bass, Rowe leads a six-piece band that fuses classic country and bluegrass, and manages to meet the standard of commercial country without losing her Arizona roots.
Her latest song, "Southern Spells," co-written with Nick Orso, is currently getting radio play and making the charts nationwide and internationally.
"It's a story song and that's one of the fundamental parts of country music," Rowe said. "It's a very dramatic tale about a beautiful, charming southern belle who's also a little trouble. The song ends with a fair warning to all men that she's one to be avoided."
She recorded the song last year with some of Nashville's top studio musicians, and it opened doors in the industry, she said.
"We were surrounded by amazing players. Let's see what it could be with a chance to grow up. They took it to another level," the singer said.
Rowe brings faith and family to the stage with her song, "Family Gathering," which was inspired by her family getting together for the holidays.
"We share this love, but we have all these quirks. It ended up being very sentimental. You don't know if next year we're going to be there."
From front porches to the big stage, Rowe has played with artists such as Wynonna Judd, Three Dog Night, Aaron Carter and Diamond Rio.
Rowe has a fall tour schedule starting with the Andy Devine Days Rodeo, then it's off to the Eureka Opera House in Nevada, Big Sting music festival and Taste of Gilbert. Go to www.sharirowe.com for more information.