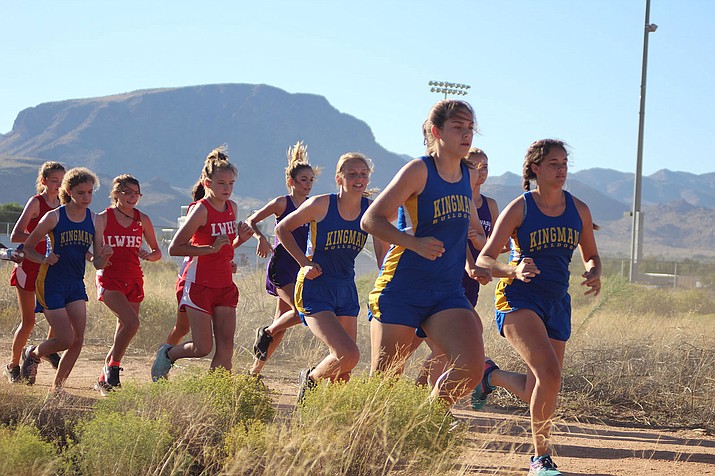 Photo by Beau Bearden.
Originally Published: September 23, 2017 6:18 p.m.
KINGMAN – The Kingman High School cross country team might not have a strong contingent of upperclassmen, but that doesn't stop the Bulldogs and Lady Bulldogs from finding the silver lining as they continued their season Wednesday at home.
Photo Gallery
Prep cross country - September 20, 2017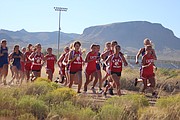 The Kingman High School cross country team hosted Lee Williams, Kingman Academy and a number of other high schools during a meet Wednesday at KHS.
"Since our team is young, it means there's more time to hang out with them," said Kingman's Rusario Cirincione. "Last year's team was mostly seniors and juniors. There's only two juniors on the team this year and the rest are freshmen and sophomores."
Freshman Christian Yazzie was the Bulldogs' top finisher at last week's Kingman Multi, taking 18th (22:54.56), followed by Leonel Torres-Vasquez in 38th (26.03.49), Xavier Rodriguez in 41st and Cirincione in 45th.
The Bulldogs did have to battle high winds on the course, but Cirincione wasn't using it as an excuse.
"I just stayed determined," he said. "A friend of mine always says, 'stay determined until the very end,' and then I can lay down and go to sleep."
Lady Bulldogs Julia Ostberg didn't seem to be too affected by the wind as she ran a 27:49.96 to take 11th place. A big advantage for Ostberg and her teammates is the fact they're very familiar with the route.
"The home course is pretty fun," Ostberg said. "I don't have to constantly be looking at the ground. I know where to go. It lets me concentrate on running more than concentrating on where I'm going."
Meah Wilson and Alize Hecker were the top overall finishers for the Lady Vols, finishing in first and second, respectively. Kingman Academy's Sam Skankey took first place with a 20:08.27, while Lee Williams' Just Dalrymple was second (20:27.46).
"I'm used to getting 17-18 (minutes), so it wasn't really the best day for me," Skankey said. "But it didn't seem like it was best day for everyone. The wind definitely affected us."
Following close behind Skankey and Dalrymple was Lee Williams' Cayden Robles in fifth place (20:34.04). Robles also talked about the wind and described it as fighting against a wall. With that said, he felt he could have still done better.
"I wasn't pleased with my finish," Robles said. "I was disappointed that I let two people pass me. But I was happy how I did out there."
Lee Williams also had three more top-10 finishers, with Zach Tempert taking sixth (20:40.52), while Daryl Bland was ninth (21:11.98) and Andrew Cardiff was 10th.
The Lady Vols, meanwhile, had Alexis Hecker take fourth (24.35.26), followed by Shayla Mayberry-Saavedra in fifth (25.25.07) and Darleen Bland in a tie for eighth. Kingman Academy's Mia Martinez also finished in a tie for eighth and talked about how it's "kind of nice" being the lone Lady Tiger.
"For one, you can be one with all of the guys," Martinez said. "For two, it makes you different. I feel unique being the only girl. It's just tough being the only one representing the school."
Martinez also added that it was her best race and she was pretty happy.
Mayberry-Saavedra was also pleased with her time and mentioned that she is pretty good at running through the wind.
"I feel like I finished pretty good," Mayberry-Saavedra said. "The team also finished awesome. None of our girls or our boys came in at the end of the pack."
Team results weren't made available. Kingman, Lee Williams and Kingman Academy are back in action Wednesday with a 4 p.m. invite at the Academy.