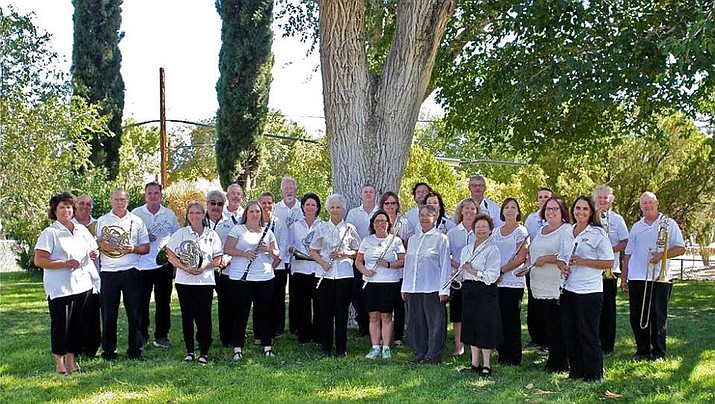 Originally Published: September 26, 2017 5:57 a.m.
KINGMAN – The Kingman Concert Band begins the 2017-2018 season with "Hands across the Sea" at 7 p.m. Saturday at Journey Church, 3782 N. Bank St.
Volunteer musicians in the community band will present an evening of music from across the world. The concert will include a variety of folk songs and sea chanteys from England, Ireland, Italy, Mexico and the United States.
Trumpet player and music teacher Shannon Bascombe will be featured in the classic, "Danny Boy."
The nonprofit concert band is celebrating 17 years of bringing free musical performances to the greater Kingman area.
The band depends on donations at the concerts to grow the band, its music library, rehearsal space and other performance factors.
Wind and percussion musicians of any level over age 18 are welcome to join the band, which rehearses at 7 p.m. Monday in the Kingman Middle School band room. Musicians must provide their own instruments, except percussionists.
Contact conductor Julie Gragg at 928-853-3846 or go to www.kingmanconcertband.com for more information.
Other concerts scheduled this season include "A Musical Christmas Card" at 7 p.m. Dec. 9 at Kingman Presbyterian Church; "Musical Jukebox" at 3 p.m. March 4 at location to be determined; and "Young at Heart" at 7 p.m. May 12 at Mohave County Library in Kingman.
In late 1998, a small group of local musicians led by Marian Craig, a librarian and flutist, met with the idea of forming a community concert band. The new band had its first rehearsal in March 1999 with Les Krause conducting. He was succeeded by Tim Boone, Art Swanson and now Gragg, a music teacher at Kingman Middle School.
Under Gragg's leadership, the band continues to expand its library, website and fundraising efforts, stressing more formal concert venues and themed musical programs.
The band is holding a fundraiser from 11 a.m. to 10 p.m. Oct. 6 at Frozen Yogurt Island, 3880 Stockton Hill Road, with 10 percent of proceeds going to Kingman Concert Band.