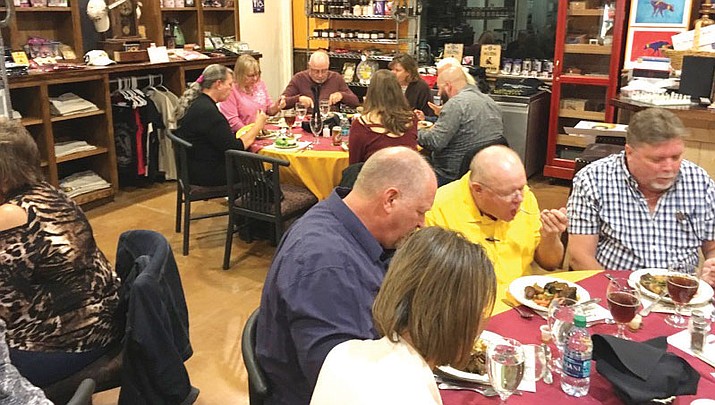 Originally Published: September 26, 2017 5:59 a.m.
KINGMAN – It was a brisk Saturday evening outside the Desert Diamond Distillery, though the chill didn't deter people from enjoying cocktails and cigars on the patio.
The evening paired three cigars and cocktails and included a dinner as well. All the cigars featured were from the Archetype series by Ventura Cigar Company out of Moorpark, California.
Deborah Patt, co-owner of the distillery at Kingman Airport and Industrial Park, said the event was a few years in the making. She and John, her husband and co-owner, just picked a date to make it happen. Patt said if they had picked a date that wasn't competing with Andy Devine Days, there might have been more attendees, but she was happy with the turnout.
"As long as people are happy, I'm happy," Patt said.
Don Callender, regional sales manager at Ventura, said the event went pretty well, especially since this was the first time the distillery had paired with cigars.
"They figured it all out on their own," Callender said. "And they nailed it."
Callender said these kinds of events are a rare and educational experience for locals, especially when a manufacturer is in town.
According to Ventura's brochure, the Archetype series is a new line that is split into two chapters. One of the cigars, Sage Advice, came from the Chapter 1. It was a multi-country blend that was rated 92 and 93 out of 100 by Cigar and Spirits Magazine and Cigar Coop, respectively. The drink that was paired with it was a coconut mocha agave rum cocktail.
The other two, Initiation and Axis Mundi, were Nicaraguan blends created in collaboration with Drew Estate. These two, from Chapter 2 of the Archetype series, are a limited release. The Initiation was rated 92 and 90 by Cigar and Spirits and Blind Man's Puff Magazine, and the Axis Mundi is the highest rated in the series with a 96 from Cigar and Spirits and a 93 from the Cigar Aficionado magazine. The drinks paired with Initiation and Axis Mundi were an Old Fashioned Manhattan and the five year barrel reserve neat, respectively.
Patt said the next event will be a barrel reserve dinner held the second week of January.
"If people are local, they need to go to events like this, local events, meet local people," Patt said. "Support local businesses."
More like this story