Originally Published: September 27, 2017 1:54 p.m.
TUCSON (AP) — University of Arizona assistant basketball coach Emanuel Richardson entered the federal court wearing the same clothes he was arrested in earlier in the day, there to face charges of accepting bribes and paying at least one recruit to attend the school.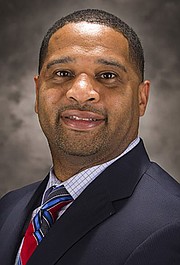 Across the country, nine other people, including three more assistant coaches, were arrested after a federal probe revealed hundreds of thousands of dollars in bribes to influence star athletes' choice of schools, shoe sponsors, agents, even tailors.
The arrests will have an immediate — and potentially long-lasting — impact on the programs involved. As the tentacles of the probe reach deeper into college basketball, more schools could come into the crosshairs and the black eye on the sport could darken.
"The picture of college basketball painted by the charges is not a pretty one," acting U.S. Attorney Joon H. Kim said.
Richardson, along with fellow assistant coaches Chuck Person of Auburn, Southern California's Tony Bland and Oklahoma State's Lamont Evans were all suspended after charges against them were announced.
James Gatto, director of global sports marketing for basketball at Adidas, Rashan Michel, a maker of custom suits for some of the NBA's biggest stars, and various financial advisers and managers also were charged.
Federal prosecutors said at least three top high school recruits were promised payments of as much as $150,000, using money supplied by Adidas, to attend two universities sponsored by the athletic shoe company. Court papers didn't name the schools but contained enough details to identify them as Louisville and Miami.
Louisville is already under NCAA probation over a sex scandal after an investigation into a Cardinals staffer hiring escorts for sex parties and to strip for recruits and players. The NCAA said Louisville must vacate up to 123 victories earned with ineligible players and suspended Louisville coach Rick Pitino five games for failing to monitor staffer Andre McGee.
Pitino also had to testify in 2010 in a federal extortion trial for the wife of the school's equipment manager, when he acknowledged under oath to having an extramarital affair with her in a Louisville restaurant.
Pitino is not named in the federal documents, though the school acknowledged it is under investigation by the FBI.
"These allegations come as a complete shock to me. If true, I agree with the U.S. Attorney's Office that these third-party schemes, initiated by a few bad actors, operated to commit a fraud on the impacted universities and their basketball programs, including the University of Louisville," Pitino said in a statement. "Our fans and supporters deserve better and I am committed to taking whatever steps are needed to ensure those responsible are held accountable."
But, as the leader of the program, Pitino could end up taking the blame if the allegations prove to be true. The NCAA could also give Louisville the death penalty, grounding the basketball powerhouse.
Auburn coach Bruce Pearl could face similar heat.
He coached at Tennessee from 2005-11 before being fired and hit with a three-year show-cause penalty by the NCAA for lying to investigators about recruiting violations. Pearl was given a second chance at Auburn, but another scandal could spell trouble for him if the allegations are proven true.
Regardless of whether the federal probe leads all the way to the top, the programs could take a hit — and not just from the NCAA.
With the prospect of an NCAA investigation on the horizon, top recruits may stay away. Current players in the programs could be declared ineligible if the probe finds they accepted money from an agent or an assistant coach.
Arizona coach Sean Miller has one of the top recruiting classes for 2018, and the Wildcats have been projected to be a top-10 team this season. Andy Enfield has a strong incoming recruiting class at Southern California and has a potential top-10 team this season.
The trajectory of the two Pac-12 programs could be altered as the probe deepens.
And the initial charges could be just the tip of the iceberg. More programs and coaches could be entangled as the FBI digs deeper, and schools where the arrested coaches previously worked could face scrutiny.
The FBI and U.S. attorneys have the reach and the power to expand the investigation. It has also set up a tip line and encouraged anyone with information on the case to come forward.
This is far from over, and the implications could last for years.
Louisville places Rick Pitino, AD on administrative leave
LOUISVILLE, Ky. (AP) — Rick Pitino couldn't survive another scandal, as an angry interim Louisville president Wednesday placed the head men's college basketball coach and his boss on administrative leave amid a federal bribery investigation.
President Greg Postel didn't stop with Pitino, he also sidelined athletic director Tom Jurich, putting him on paid administrative leave. And though Pitino isn't officially out of a job — he was placed on unpaid leave — the coach's attorney, Steve Pence, told the Courier-Journal that Louisville has "effectively fired" Pitino.
Postel's decision comes after the school acknowledged on Tuesday that the men's program is part of a federal investigation into alleged bribery of recruits. The 65-year-old coach was not named in the indictment that resulted in the arrest of 10 people including four assistant coaches at other schools and an Adidas executive.
"I'm more angry than embarrassed," Postel said Wednesday at a news conference, adding that an interim coach would be announced within 48 hours. "We will be looking for someone with integrity. ... There's no reason this team can't have a good season."
The Cardinals have been winning under Pitino, who has a 416-143 record over 16 years at Louisville, including a 2013 NCAA championship. But there have been continuing off the court issues.
Jurich, who has been at the school for nearly 20 years, has always supported Pitino through many embarrassing transgressions.
But Postel said, "It is vital for this university to strictly adhere to the NCAA rules and of course federal law. Failure to do that would be a tacit endorsement of criminal behavior."
More like this story