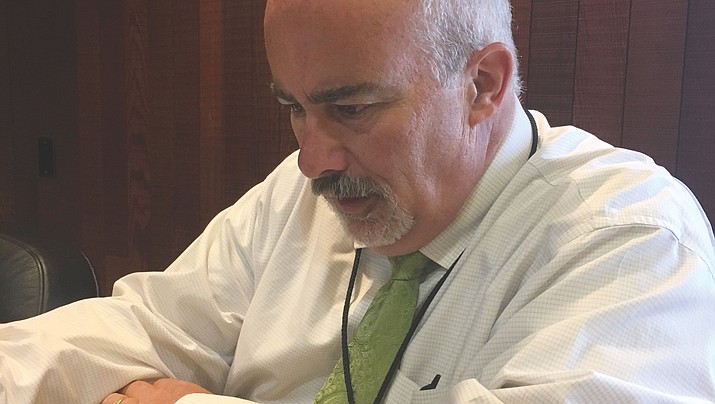 Photo by Hubble Ray Smith.
Originally Published: September 27, 2017 5:59 a.m.
Document
KINGMAN – The annual performance evaluation for City Manager John Dougherty, released to the Daily Miner on Friday, shows a below-average rating in each category.
Following are the aggregate scores in each category based on 1 to 5, with 1 being poor (rarely meets performance expectation) and 5 being excellent (always exceeds performance expectation) and comments:
Individual characteristics: 2.11. John's staff sincerely likes and trusts him. While he appears very adaptable to change, this may also be a weakness. John seems to be able to change direction relatively easily, changing direction depending on the loudest voice in the room. John needs to take authoritative leadership with his staff and Council when they seek and need direction.
Relations with elected Council members: 2.33. John is prompt with forwarding "heads-up" emails from his department heads but that is not enough. Council needs updates about city business, activities, opportunities, etc. John is in a difficult position, balancing the directives of a divided Council. He tends to lean toward whoever "the winning team is" rather than voicing his opinion.
Policy execution: 2.57. John takes Council direction very well. Perhaps too well, failing to take a leadership position when the city and the Council could benefit from it. John falis to "assist the council" and rather follows direction.
Communication and reporting: 2.40. The monthly city manager's report is very comprehensive and well done but he does not give updates at council meetings that would be beneficial to the Council and citizens. Giving updates in open session educates and inform citizens, put John in a more authoritative role and promotes a transparent government. John is friendly and happy but it appears he does little to motivate employees in city hall.
Citizen relations: 2.86. The city's website is dull, antiquated and the brunts of ridicule, failing to house even an accurate or full description of city meetings. It needs to become a vibrant, useful and informational tool to promote and serve the city and its citizens.
Staff effectiveness and supervision: 2.56. It seems that staff is well trained, but at what price? More "brown bag lunches" having guest speakers from other departments present on their area of expertise. Employees need to be responsible for self-teaching. Some formal education is required for specific positions but too frequently staff is out on trips to attend education.
Fiscal management: 2.60. The budgeting process seemed copied from previous years' budgets. A zero-based budget with staff justification on each line item could save the city money. Additionally, all city staff and employees should question the "how it's always been done" mentality and promote new ideas and innovations.
Community involvement: 2.73. It does not seem John has a significant working relationship (exchanging best practices, ideas, brainstorming, reaching out for advice, networking) with the tri-cities council, ADOT, state government or county officials. Many of the commissions are either a failure or nearing failure.
Innovation, creativity and technology: 2.33. John is very satisfied with the status quo. It seems he has allowed his department heads and their staff to "write their own ticket" and the "ticket" lacks accountability, drive, excitement, enthusiasm or a dedication to customer service. As an example, while John needn't be an IT guru, he could become much more involved in the city's IT department and drive change. Generally, there is an atmosphere of "that cannot be done" or "that's going to take weeks" rather than "let's figure out a way." One of John's strengths is how fond staff is of him. They are loyal and dedicated to him, which is important. Additionally, he has allowed Chief Rhoades to make stellar changes and improvements in both the KPD and building inspecting processes. John needs to grow as a leader and no longer accept the status quo in so many areas of the city's departments. He must expect and then demand excellence in all areas of city hall. City hall needs to transform from the low energy environment that exists now to one of drive, dedication to customer service and energy.