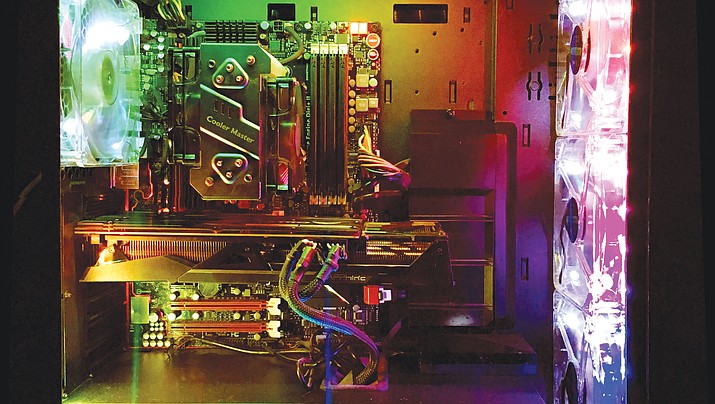 Originally Published: September 27, 2017 5:57 a.m.
Computers are everywhere. From our workplaces and libraries, to our homes and schools, just about everyone has one. We carry them around with us for classes or interviews, or to do work in the coffee shop.
But what is the difference between a laptop and a computer tower? How do you build something for work versus building something to game? What are those differences?
It is important that before buying any components or buying a pre-built kit, the user determines the function of their personal computer. If the computer is going to be used in the home office for word processing and emails, there will be different requirements than a computer for high-end gaming or even workstation purposes.
Devon Kinney, treasurer of the MC4 Computer Club at Mohave Community College, said the differences between a gaming machine and one that is used in an office comes down to memory, RAM (Random Access Memory is where programs store information that they are using – short-term memory), graphics cards and hard drive space.
A computer built for word processing, such as for businesses, tends to have a larger amount of hard drive space, where all the installed programs and data are stored but tend to have less RAM, usually not exceeding eight gigabytes.
"Just to run Windows, you need four gigabytes of RAM," Kinney said.
Andra Goldberg, an instructor in computer information systems at MCC, said anyone who wants to build their own computer can easily buy a barebone kit for about $500. If the goal is to have a PC that is built simply to run word processing and an operating system, there isn't really a need to go beyond that.
"Most computers at businesses are powerful, they just aren't being fully utilized," Goldberg said
However, it is possible to create a PC entirely from the ground up. Kinney said PCs have great modularity – the ability to be modified – which lets people create them any way they want.
Kinney said to build a computer, you always start with the motherboard and processor (CPU.) Noah Robertson, president of MC4, added that it is important for the motherboard and the processor to be a pair, since the CPU has to fit the motherboard. The decision to buy them as a package could save a little bit of money. However, it is also not entirely necessary.
The reason the most important components to buy are a CPU and motherboard is because a CPU is the "brain" of a computer. If the processor is the brain, then it follows that the motherboard is the nervous system. The motherboard is what connects all of the internal components of the computer.
Depending on the CPU purchased, there are different types of motherboards. The choice here will depend on the processor, the amount of memory desired, the computer case and how many drives are connected to it.
A dedicated graphics card is essential for playing the latest games, but not a major issue for a computing daily tasks. Most consumer CPUs have integrated graphics, so there is no need to have a dedicated card for office work, web browsing email and a little bit of online gaming.
If the computer is for watching or editing a lot of high definition videos or playing a lot of games, it will need a dedicated video card, which depending on the build and the maker, can cost up to $750, Goldberg said.
And, of course, every PC needs a power supply. The power supply gives the oomph to all of the components in the computer. Sometimes power supplies are included in a case, other times they have to be purchased separately.
The hardware to make a computer function isn't the only important aspect of building a PC.
"It's important to consider aesthetics as well," Kinney said.
The case is what holds all the computer components. Cases range from cheap and functional to flashy, bought for their appearance and expensive. Select one that allows for optimal airflow and install extra fans if necessary. Pick one that looks good or that fits a specific visual in mind.
Kinney said that a good medium for a gaming PC is about $800, though his cost $1,200 and some gaming PCs can run up to $5,000, all depending on the components used.
The most important thing for anyone who is building a PC from the ground up is research, such as reading product reviews and tech magazines or watching tech reviews on YouTube. PCs are an investment, both of time and money, and everything depends on the hardware working together.